Years ago, my dad wrote a post about his maternal grandfather, Haroutyun Bichakjian. The story tells of Haroutyun's arrival to America and of his work in his own restaurant. A dessert he was famous for was apricot pie – a sweet-tart jammy filling in a flaky, buttery crust. This recipe was eventually handed down to his eldest daughter, Sylvia, my paternal grandmother (who I closely resemble). Grandma Sylvia perfected this recipe over the years, and in turn, passed this (as well as many other recipes) to my mom, who has now entrusted it to me.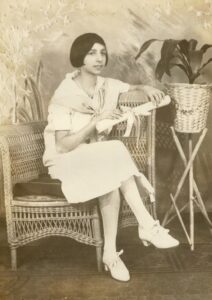 It's not a secret recipe, as it's been on this site for years, but it's very dear to our hearts having been passed down from generation- to generation – to generation.
With Mother's Day coming up, one of my priorities was to make this recipe side-by-side with my mom. In addition to being a fun activity to do together, I also needed to make sure that I can properly carry the torch forward.
Thanks to Noubar Afeyan, I was able to visit my parents recently and make this recipe with my mom. The results were as magical as I remembered. My mom definitely made grandma Sylvia proud, but no pressure! Let's see what happens when I try it on my own. Luckily for me, my mom is also my 24/7 emergency cooking hotline. Perks of having a family with a cooking website.
With this recipe, we wish to honor ALL mothers. Hope you enjoy it as much as our family does. We'd love to hear your feedback and in the meantime… Happy Mother's Day!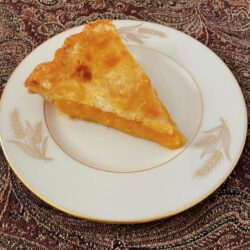 Armenian Apricot Pie
A sweet-tart apricot filling surrounded by a buttery, flaky, pastry-like pie crust.
Ingredients
Pie Filling Ingredients:
2

(11-oz. pkgs.)

dried apricots

water

(enough to cover the apricots)

½

cup

granulated sugar

1

Tbsp.

unsalted butter

½

tsp.

cinnamon

(or to taste)

1

Tbsp. (each)

cornstarch and water

(used to thicken apricot mixture)
Pie Crust Ingredients:
2¾

cups

all-purpose flour

1

Tbsp.

granulated sugar

1

tsp.

Kosher salt

2

sticks

unsalted butter

(cut into small cubes, chilled)

½

cup plus 2 Tbsp.

ice-cold water
Egg Wash Ingredient:
1

egg, separated

(Note: Egg white will be used to brush onto the bottom pie crust before the filling is added. Egg yolk will be brushed onto the pie crust surface.)
Instructions
Pie Filling Directions:
Place apricots in 3-quart pot. Put enough water to cover them; add sugar and stir.

Bring to a boil, then reduce heat to low. Place a cover, tilted; cook for 15-20 minutes, stirring now and then. Add butter and cinnamon; stir until butter is melted.

Using an immersion blender or potato masher, mash apricots until the mixture is smooth.

Combine cornstarch and water, then add to apricot mixture and heat until thickened.

Place apricot mixture in a bowl and allow to cool. Note: This can be made a day ahead of time, covered, and chilled in the refrigerator until ready to use.
Pie Crust Instructions:
Place the flour, sugar, and salt in a food processor bowl fitted with the metal 'S' blade. Pulse in 1-second intervals to combine.

Add all of the small cubes of chilled butter to the flour mixture in the processor bowl. Pulse until the butter is mixed with the flour without over-mixing. Bits of butter should still be visible, and the dough should look dry and crumbly.

Add several tablespoons of ice-cold water at a time and continue to pulse. Stop adding water when you can gather the dough by hand and it holds together

Place the mixture on clean work surface to form a ball. Cut the ball in half.

Then, using the palm of your hand, press each half into around disk and wrap individually with plastic wrap. Place in the refrigerator for at least three hours, or overnight for best results.

Remove dough disks from refrigerator and unwrap. Lightly flour the work surface and rolling pin. Place dough onto the floured surface.

Roll out the dough from the center, outward in all directions. Apply even pressure as you roll. Periodically, lift dough edges to make sure it's not sticking to the work surface. Add more flour, if needed. Roll dough until it's less than 1/4-inch thick.

Invert the pie pan over the rolled dough to make sure it's large enough to fit the pan.

Lightly butter the bottom and sides of the pie pan before adding the dough.

To place the dough into the pan, gently fold the rolled dough in half, then in half again. Place the folded point of the dough into the center of the pan and unfold.

With your fingertips, gently press the pie dough onto the bottom and up the sides of the plate.

Brush the beaten egg white onto surface of the bottom crust. Add the apricot filling so it reaches almost to the top, spreading evenly.

Roll the second dough disk as described above. Note: Make sure there will be enough dough overhang to attach the top crust to the bottom crust, and to allow for crimping the edges.

Gently lift the dough for the top and place it over the filling. Using a paring knife of kitchen shears, carefully trim excess dough but allow about 3/4 inch to create the edges.

Fold the edge of the dough underneath itself so that it creates a 1/4-inch border that rests on the edge of the pie pan.

To crimp the edges, you can press the tines of a fork lightly around the edge of the pie shell – or -use both index fingers and your thumb to created a scalloped edge – or- any other method you prefer.
Egg Wash Directions:
Add a little water to the egg yolk and beat together.

Brush the egg wash on the surface and edges of the top. Cut slits into the the top to allow steam to escape during baking. Note: to protect the crust from burning in the oven place aluminum foil around the edges, like a lose collar to help the pie cook more evenly.
To Bake the Pie:
Preheat the oven to 425 degrees F. Place pie pan on the top rack and bake for 35-45 minutes, or until the top is golden brown.

Cool completely on a wire rack before cutting and serving.
Notes
Note: The filling can be made a day in advance and kept refrigerated until ready to use.
If making pie crust from scratch isn't your thing, feel free to purchase ready-made pie crusts usually found in the dairy section of most supermarkets!
(Visited 725 times, 1 visits today)