We've been trying to do our part by helping to preserve treasured recipes passed down to family, friends and to so many of you readers who have become our new friends.
One stand-out favorite is stuffed grape leaves (yalanchi). We've tasted many variations, including some we love so much we wouldn't want future generations to do without them.
Two of those come from 1) my cousin, Vivian Vezirian Hovsepian, and 2) dear friend, Arousiak Avedyan.
Robyn's note: They are both phenomenal cooks!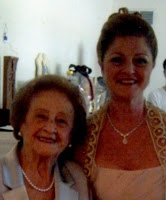 First, Vivian, from my Dikranagerdsi side of the family, was happy to share the recipe and said it was handed down from her mother, Victoria Vezirian. Vivian thinks this recipe probably came from her maternal grandmother, Gadar Najarian. Both women are gone now, but it's wonderful to know they are remembered through their recipes.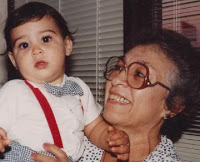 Second, Arousiak's recipe for yalanchi came from her mother-in-law, Alice Avedyan, who lived in Istanbul. Arousiak, who was born in Armenia, confessed she never liked yalanchi, and therefore never learned to make it UNTIL she married her husband, Varoujan, and tasted his mother's cooking.
Arousiak couldn't believe how delicious it was, and regretted not eating it all those years. Luckily, Alice stayed with the newly married couple for several months, teaching Arousiak everything she needed to know about cooking.
Arousiak knew she was a success in the kitchen when she received the ultimate compliment from her mother-in-law: "Arousiak, you're making it better than I do!"
(If you need a refresher on how to roll grape leaves, check out our YouTube video.)
Both incredible recipes are below, we hope you enjoy them!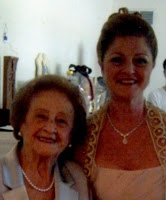 The Vezirian Family Yalanchi Recipe
Rice-stuffed grapes leaves.
Ingredients
3

lbs.

onions

(finely chopped)

2

cups

oil

1½

cups

rice

1

large can

tomato paste

3

lemons

(Juiced)

Salt & pepper

(to taste)

1-2

Tbsp.

paprika

2

Tbsp.

allspice

(ground)

¾

cup

pignolia nuts (pine nuts)

(approx.– add more or less, to taste )

few dashes

cayenne pepper

½

bunch

parsley

(chopped)

50-75

grapes leaves

(fresh or jarred (See note below))
Instructions
In a large pot, saute onions and rice in oil over medium heat until very clear. This will take at least one-half hour. Stir occasionally so it won't stick. If you see mixture sticks or seems like it's burning, lower heat.

When onions are limp, add rest of the ingredients – except the grape leaves, of course! Remove from stove and stir until all ingredients are well blended. Cool in pot for about 20 minutes. Tip pot so oil drains from mixture. Set aside for later use.

Fill grape leaves with mixture – about 2 Tbsp., depending on size of leaf. Roll leaves. (See how to prepare fresh grape leaves in Note below.)

Place rolled grape leaves in large pyrex dish, but not more than 3 layers deep. Drizzle the drained oil from pot over the yalanchi.

Add warm water to fill pyrex 3/4 full. Bake, covered, in a preheated 350 degree oven for about 1 hour or until most liquid is absorbed. Check by tasting to see if rice is cooked. If so, remove from oven.
Notes
Vivian uses fresh grape leaves from the vines her father planted many years ago.
If using fresh grape leaves from the vine, rinse them gently, but thoroughly in cool tap water. Remove the stems and blanch them in boiling water for about 30-40 seconds. Remove leaves with a slotted spoon and place them in a colander to drain and cool down completely.
Vivian's comment:
(Putting this recipe together) was so difficult (as many Armenian recipes are) to get the specific measurement from my mother. She never owned a cookbook or measuring utensils. Everything was "achkee chap"– or "eyeballing" it! By watching and trying to get a spoon or measuring cup under her hands, was the way I learned …..truly a challenge! But I do appreciate the compliment about my yalanchi, but, after all, I did learn from the best!:)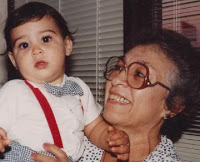 Alice Avedyan's Yalanchi
Grape leaves stuffed with rice, pine nuts and currants.
Ingredients
10

medium

onions

(chopped)

½

cup

short grain rice

1

bunch

fresh dill

(chopped)

¼

cup

pine nuts

¼

cup

currants

1

tsp.

allspice

1

tsp. each

salt and pepper

1½

cups

vegetable oil

½

lemon

(juiced )

1

16 oz. jar

Grape leaves
Instructions
Saute onions in 1 ½ cup oil over medium heat until soft. Add rice and all other ingredients. Cook about 20-25 minutes. Cool.

While filling ingredients are cooking, rinse grape leaves in cool water. Pat dry and remove thick stem end.

Working with one leaf at a time, lay the shiny side of the leaf down on a flat work surface. Depending on the size of the leaf, place about 2-3 tsp. of filling on each leaf at the stem end. Fold sides in toward center and roll leaf closed (as if you were making a burrito). Don't roll too tightly as rice expands as it cooks.

Using a large pot, arrange stuffed grape leaves tightly together, stacking on top of each other, until all are arranged. Squeeze lemon juice on top. Put a plate on top of the wrapped grape leaves to help keep them in place while cooking. Pour some water over the grape leaves, but not enough to cover.

Bring to a boil, then reduce heat to low. Cover the pot; cook about 45 minutes until leaves are tender and rice is cooked.
(Visited 720 times, 1 visits today)