If there's anything Armenians love to stuff more than their tummies it's vegetables.
Sure, we'll stuff just about any part of a lamb, from the stomach to the head. We even stuff meat with meat (kufteh!).
But veggies are so easy to make into a colorful and tasty meal. You can even skip the meat if you like and just add a bit of onion and perhaps garlic to spice up the filling.
Just remember that when it comes to stuffability, fatter is better. Walk past those long, skinny cukes that make salads crunchy and lavish your attention on the plump, seedy ones. They're much easier to scoop out, and they hold lots more dolma goodness.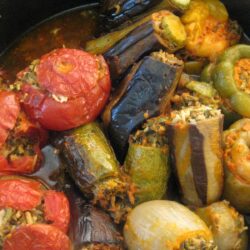 Dolma, the Armenian meal in a vegetable
Vegetables, meat, and rice seasoned to perfection – all in one bite!
Ingredients
The Vegetables:
Select an assortment of your favorite fresh vegetables: tomatoes, peppers, zucchini, cucumbers, cabbage leaves – anything that can be stuffed.

(The amount of vegetables will vary.)
The Filling:
1½-2

lbs.

ground lamb

(American lamb, if you can find it, is the best. Note: Ground beef, ground turkey, or a combination can be used.)

¾ – 1

cup

uncooked, long grain rice

½

6-oz. can

tomato paste

(diluted in 1/2 cup water Note: the rest of the tomato paste will be used in the sauce.)

salt, pepper, paprika

(to taste)

1

Tbsp.

lemon juice

¾

cup

chopped parsley
The Sauce:
⅓

cup

dried sumac berries

(Sold in Middle Eastern stores. Notes: 1 Tbsp. of ground sumac can be substituted. Sumac provides a lemony taste to recipes.)

1

dash

each of salt – and – sugar

½

6-oz. can

tomato paste

1

Tbsp.

lemon juice

3

cups

water
Instructions
Preparing the Vegetables:
Wash them, scoop out their centers, and rinse the insides with lightly salted water. Set aside until ready to stuff.
Filling Directions:
Combine all of the ingredients in a large bowl, mixing with your hands or a wooden spoon until well mixed.
Sauce Directions:
Place the sumac berries in a tea strainer – or – wrap in cheesecloth and tie closed with twine. If using ground sumac, it can be sprinkled into the water.

Combine the sauce ingredients in a saucepan, stirring to incorporate the tomato paste. Bring to a boil. Reduce heat and simmer for 20-30 minutes. Discard sumac berries.
To Assemble and Cook:
Fill the cavity of each prepped vegetable about 1/2-way with the meat-rice stuffing. Don't fill completely; leave room for rice to expand. Continue until all vegetables are stuffed. If you have extra meat-rice filling, shape them into walnut-sized balls and add them to the pot to cook with the vegetables.

Place stuffed vegetables side-by-side in a large pot.

Pour sauce over the vegetables. Place a small dish on top of the vegetables, then put small pot of water on top of the dish to hold the vegetables down during cooking.

Bring to a boil. Reduce heat and cook for about 45 minutes, until rice and vegetables are tender.

Allow Dolma to rest for 1/2 hour before serving.
To Serve:
Dolma is best served with thick, cold plain yogurt, and soft Armenian lavash or pita bread.
Notes
If you can't find sumac, just use lemon juice. Add according to your preferred level of tartness.
(Visited 9,066 times, 1 visits today)