Ever since my copy of Lena Tashjian's 'The Vegan Armenian Kitchen Cookbook' arrived last week, I've been carefully studying every recipe. I already make a number of her dishes which are so gloriously depicted by photographer Siroon Parseghian.
For this post, I chose a dish I hadn't made before – Mshosh – which combines lentils, dried fruit, and nuts – all ingredients I had on-hand. This takes very little time or skill to prepare and the end result is earthy, nutty, slightly sweet, and definitely hearty!
The name 'Mshosh' comes from one of its main ingredients – a specific variety of wild apricot. Traditionally, the apricots would be left whole, but Lena prefers them chopped 'to ensure a sweet taste in every bite!'
Lena also points out that variations of this recipe might use pumpkin, green beans, or beets instead of apricots, but the apricot version is the most popular.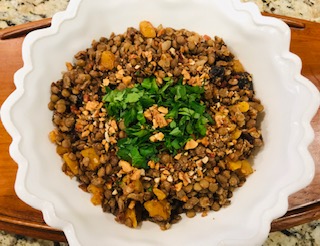 Mshosh, a Lentil and Dried Fruit Dish
A delicious vegan Lentil and Dried Fruit Dish
Ingredients
1

cup

green lentils

(dry)

3

cups

water

1

medium

onion

(finely chopped)

4

tbsp

olive oil

½

cup

dried apricots

(chopped)

½

cup

prunes

(chopped)

⅔

cups

walnuts

(crushed. I used a mixture of chopped almonds and pecans)

¼

cup

parsley

(chopped)

salt and pepper

(to taste)
Instructions
Soak apricots and prunes in hot water. Set aside.

Rinse and drain the dry lentils. 

Place them in a pot with the 3 cups water. Bring to a boil, then immediately lower the heat to medium. Cook lentils, covered, until soft and liquid is absorbed, about 20-25 minutes. Check to make sure the liquid hasn't evaporated before the cooking time is up. Add a bit more water if necessary. However, if lentils are fully cooked and liquid remains, drain any excess liquid.

While the lentils are cooking, sauté the onion in a skillet over medium heat until translucent. Add the drained, chopped apricots and prunes; cook for an additional 5 minutes.

Turn off heat, add chopped nuts and stir, then add the entire fruit-nut mixture to the pot of cooked lentils. Season with salt and pepper to taste.

Just before serving, garnish with chopped parsley.
(Visited 1,228 times, 1 visits today)