After reading a recipe for Jingalov (Djingialov) Hats in the AGBU cookbook, "Flavors with History – Armenian Cuisine", I thought it might be interesting to try. It's another Lenten-appropriate (vegan) recipe, and a reminder that it's springtime.
With the bounty of fresh herbs currently available in our local farmers' markets, gathering the necessary filling ingredients was no problem.
One source suggested using 20 different herbs, another said as many as 40 could be added to this bread.
20? 40? Really?? Well, I suppose you could, but that sounds like herbal overkill to me.
Creativity is key. Mix-and-match your favorite herbs; there are no set rules with this recipe. Use what's available in your area, and what herbs you enjoy.
Wanting to be able to taste the individual herbs with each bite, I limited my herb selection to 5 – mint, tarragon, cilantro, thyme, and sage. (I understand that I violated a rule in this "no rules" recipe, by adding thyme to the mix. What can I say?)
To learn more about Jingalov Hats, read what my friend, Lena Tashjian, author of The Vegan Armenian Kitchen cookbook, has to say on this subject.
For the record, it is highly recommended to eat Jingalov Hats while sipping a good red wine.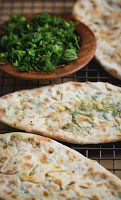 Jingalov Hats
A Lenten-appropriate (vegan) recipe for homemade lavash bread stuffed with fresh herbs.
Equipment
Technically, it's best to cook this on a 

tonir

, but since we don't own one, and never will, I used a 12-inch non-stick skillet coated with vegetable spray, and prepared it on the stove top. One source recommended cooking this on a preheated, inverted wok over a gas stove. So, if you have a wok – and – a gas stove, that could be an option.
Ingredients
Herb Filling
3

cups

assorted fresh herbs like mint, parsley, cilantro, sage, thyme, rosemary, oregano, savory, dill, etc.

Kosher salt

(to taste)

1

drizzle

olive oil
Dough Ingredients
3

cups

flour

¼

tsp

salt

1

Tbsp

olive oil

1

cup

water
Instructions
Herb Instructions
Wash and spin-dry or towel-dry the herbs.

Coarsely chop the herb assortment, and sprinkle with salt to taste, but don't over-do it. Add a drizzle of olive oil. Mix together.

Set aside until ready to use.
Dough Instructions
Mix together flour, salt, oil and water to form a dough. If the dough seems too dry, add a bit more water. If the dough is too sticky, add a little more flour at a time.

Knead until dough is smooth.

Divide dough into 4 equal-sized balls.

On a very well-floured work surface, roll each ball into a very thin circle or rectangle – as though you were making lavash. The shape tends to be more rustic than uniform.
Assembling and Cooking Instructions
Place enough of the herb filling to almost cover one of the circles. Do not spread it all the way to the edge of the dough.

Fold the dough over the herb mixture, pinching the dough closed. Gently re-roll the dough to secure the herbs into the dough.

Coat a large non-stick skillet with vegetable spray, and bring to a medium to medium-high heat.

Place filled dough in skillet and cook on until brown spots appear on the dough's surface. Carefully flip and cook on the second side.   
Notes
Please Note: If the dough is rolled too thick or if it isn't cooked long enough, the inner part will be doughy. This is a tricky balance that requires practice. To Serve: As an appetizer, cut into portions, and eat with your hands – OR – eat the entire piece yourself. Don't forget the red wine!
(Visited 2,283 times, 1 visits today)