When I wrote about the Lenten appetizer "Topig" (Topik) two years ago, I linked my story to blogger Joumana's site (TasteofBeirut.com) since she had already gone to the trouble of preparing the recipe and posting it so beautifully. I still haven't tried the authentic version of topig, and but gave it some serious thought with the return of Lent.
My counterpart in Yerevan, Sonia Tashjian, must have been reading my mind because as I was considering making topik, she emailed me her simpler version, which I have modified below. Her method sounded more my speed, in that the ingredients are mixed together, without the tedious shaping and stuffing. It's still a bit of work, but not as daunting for the time-constrained cook.
Our Verdict: Very enjoyable! Doug said it reminded him of a combination of hummus and midia dolma – minus the mussels; I loved the sweetness of the currants and tartness of the lemon juice, but feel a pinch of cinnamon would have enhanced the flavor a little more.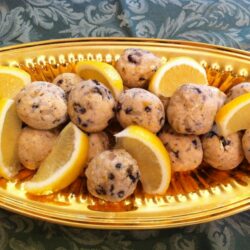 Topik (Topig)
A vegan Lenten appetizer made of spiced chickpeas and potatoes.
Ingredients
16

oz

chickpeas

(1 large can, drained, rinsed, skins removed)

2

red potatoes, small

(boiled, peeled, and cut in half)

1

onion, medium

(finely chopped)

1

tbsp

olive oil

¼

cup

tahini

1

tsp

cumin, ground

¼

tsp

red (cayenne) pepper

¼

tsp

black pepper

dash

cinnamon

(optional)

1

tsp

dried mint

½

tsp

salt

¼

cup

pine nuts

(chopped)

¼

cup

currants
Instructions
Saute the onions in hot oil in a skillet until softened. Set aside.

Process the chickpeas and cooked potatoes in a food processor using the metal "S" blade.

Place the ground chickpeas, potatoes and remaining ingredients in a large mixing bowl; mix well. 

Using your hands, knead the ingredients together, making sure the mixture holds together. NOTE: keep a bowl of water nearby to dip your hands, if mixture feels a little dry.

Shape the mixture into 21 ping pong sized balls.

Cut 21 (6"x6") squares out of two-ply cheesecloth, and 21 (10") strands of kitchen twine.

Wrap each ball in a cheesecloth and tie the top with a piece of twine.

Cook several topiks at a time in a pot of salted, gently boiling water, until they float to the top- about 5 to 7 minutes.

Remove each from water; allow them to cool on a wire rack; untie them.

Serve the topik with a drizzle olive oil and squeeze of fresh lemon.
(Visited 1,762 times, 1 visits today)