We all know about the devastating explosions which occurred in Beirut on August 4th. Buildings and businesses in ruins, lives lost.
Mayrig, Aline Kamakian's restaurant in Beirut, is highly regarded by anyone who has ever dined there. Unfortunately, her establishment was not spared in the blast.
I came across two pieces on FaceBook about Aline and her restaurant.
The first: This photo and explanation came from a story by Emilie Sueur, Editor-in-chief at L'Orient-Le Jour:
"Aline Kamakian refuses resignation. Nearly 85 families depend financially on its restaurant, Mayrig, devastated by the double explosion of August 4, at the port of Beirut. If the interior of the establishment is, for now, condemned, she has vowed to reopen the terrace and kitchen asap." – Emilie Sueur, Editor-in-chief at L'Orient-Le Jour
The second was written and posted by Zoe Dean-Smith:
"We met this incredible woman Aline Kamakian during our Global Ambassadors Program in London in 2016. Last week she lost her restaurant, her office, her home last week in the Beirut explosion. 25 of her staff were hospitalized, 3 in critical condition and 30 of her staff lost their homes. Today she already has her sleeves rolled up again and is working with World Central Kitchen preparing meals for victims of the blast.
I am so in awe of this fearless resilient woman leader. If you'd like to support her and her Mayrig community, please go to Gofundme.com/Mayrig." – Zoe Dean-Smith
I've never been to Beirut, and therefore have never been to Mayrig restaurant or to Aline's other restaurant, Batchig, but I have – and love – Aline's and Barbara Drieskens' cookbook, Armenian Cuisine, which was published in 2011.
With Aline's determination one can be sure that Mayrig will rise once again.
So, it gives me great pleasure to share with you one of Aline's deliciously simple recipes, Olive and Nut Salad.
Although I am posting her recipe as it is written in her cookbook, I adapted my version slightly based on the ingredients I had on hand.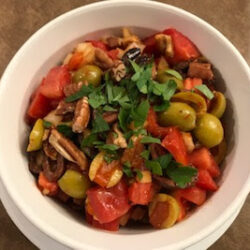 Olive and Nut Salad
The Armenian Kitchen's adapted version of Aline Kamakian's Olive and Nut Salad.
Ingredients
1½

cups

green olives- pitted

(I used a combination of pitted Kalamata olives and pimento-stuffed green olives.)

2

Roma tomatoes

(cut into small dice)

1

white onion

(medium, finely chopped)

1

tbsp

red pepper paste

(mild)

2

tbsp

olive oil

½

tbsp

pomegranate molasses

lemon

(half, juiced)

½

cup

walnut- pieces

( I used chopped pecans. )

2

tbsp

parsley

(washed and finely chopped)
Instructions
Cut pitted olives in half.

Blend together the red pepper paste and olive oil, stirring very well. Add the pomegranate molasses and lemon juice and mix to create a sauce.

In a bowl, mix together the olives, tomatoes, and onions. Pour the sauce over them, tossing to coat.

Just before serving, stir in the chopped nuts and parsley.
Notes
Aline suggests serving this in small portions as it is quite filling and is best when served as a side dish or as part of a mezza assortment. 
(Visited 746 times, 1 visits today)