Four years ago, Doug asked if I'd be interested in an Instant Pot (pressure cooker) for Christmas. My ears heard 'Crock Pot', to which I whole-heartedly replied, 'Yes!'
On that Christmas morning, I carefully opened the package, but much to my surprise, an Instant Pot was revealed! Doug, beaming, expected me to be doing the same. Instead, I looked puzzled thinking he'd made a mistake, when, in fact, the mistake was mine. I smiled, thanked Doug, graciously accepted the gift, and placed it in a closet.
Current day:
My daughter Mandy was just here for a visit. Before she arrived we planned to prepare a few family favorites together – including yalanchi. I told her I was considering making something with my never-used Instant Pot and she was thrilled to hear that I finally felt comfortable enough to step out of my comfort zone.
Allow me to explain my IP apprehension: Back in my early days in the kitchen, pressure cookers were used on the stovetop. Sometimes the pressure within the pot was so intense, it would literary blow the lid off, often creating a hole in the ceiling.
Mandy assured me that wouldn't happen in the IP, so we unpacked it, did a dry-run with the 'machine', and she guided me like a pro. (It's pretty funny that my daughter was giving me, a retired culinary teacher, a lesson in cooking!)
With Mandy helping, I agreed to give it a try.
The recipe we chose to make came from Ani Ehramjian, cousin Margaret's twenty-something-year-old daughter. I had seen on FB Ani's photo of the yalanchi she made using an Instant Pot, and it looked delicious.
To help with our experiment, Ani sent me her family's recipe for 'Stuffed Grape Leaves – the Instant Pot version'.
Mandy and I worked side-by-side, made some slight adjustments to the recipe, and were very pleased with the final outcome.
Special Note: If using fresh grape leaves from the vine, rinse them gently, but thoroughly in cool tap water. Remove the stems and blanch them in boiling water for about 30-40 seconds. Remove leaves with a slotted spoon and place them in a colander to drain and cool down completely.
Many thanks to Ani for the recipe, and to Mandy for helping me overcome my anxiety about cooking with a pressure cooker!!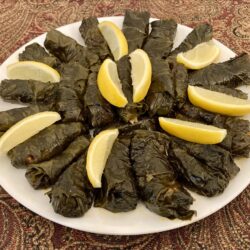 Yalanchi (Stuffed Grape Leaves)
Ani Ehramjian's  Instant Pot Yalanchi (stuffed grape leaves) recipe that is vegan!
For non- Instant Pot users, stovetop instructions are given below.
Ingredients
5

cups

yellow onion

(finely chopped)

1

cup

flat leaf parsley

(finely chopped)

1

cup

rice

(short or medium grain)

¾

cup

olive oil

(we used about 1/3 cup olive oil in all)

3

lemons

(juiced)

6

oz

tomato paste

(undiluted)

¼

cup

pignolia nuts

(we used 1/2 cup)

½

tsp

allspice

(we used 1 tsp)

½

tsp

dried mint

(finely crushed)

salt and pepper

(to taste)

18

oz

grape leaves

(rinsed and stem ends removed. We used the Tamara brand grape leaves from Armenia.)
Instructions
Preparing the Filling
In a non-stick skillet, toast pine nuts over low heat until fragrant and lightly browned, about 3 minutes. Remove from heat and set aside. 

In a large pan, sauté onions in 2-3 Tbsp of the oil over medium heat for 10 minutes until softened. 

With heat on low, add the rest of the ingredients – except for the grape leaves. Mix until combined, and then remove from heat. Set aside to cool completely. 
Rolling the Grape Leaves
Spread open each grape leaf with the shiny side facing down and the stem end toward you. 

Place a spoonful of filling in the center, fold over both sides and roll from the bottom of the leaf to the tip.

Wrap tightly enough so the yalanchi won't unravel during cooking, but not so tight that expanding rice will burst through the leaf. 
Cooking Instructions
Line Instant Pot inner liner with ripped leaves. 

Put wrapped grape leaves in rows in pot, pack tightly. Do not exceed the limit line marked on the pot. 

Add 1 cup of water to the pot, squeeze in extra lemon juice if desired. (Special Note: Ani said do NOT place a plate on top of the stuffed leaves in the IP!) 

Following the manufacturer's instructions for your Instant Pot, cook for 15 minutes on normal pressure, then 15 minutes natural release. It's that easy!

Chill until ready to serve.
Video
Notes
To serve: Arrange yalanchi on a platter and garnish with lemon wedges, if desired.
Stovetop Method: If you'd rather cook these on the stovetop, line the bottom of a large pot with torn grape leaves. Put wrapped grape leaves in rows in pot, pack tightly. Add 1 cup of water to the pot, squeeze in extra lemon juice if desired. Place a heavy plate on top of the stuffed grape leaves to prevent them from floating and/or unraveling.
Cook, covered, on the stove on low heat for about 1 hour and 45 minutes, until leaves are tender and rice is cooked.
(Visited 2,444 times, 1 visits today)