Doug and I know a thing or two Dikranagerdsi recipes, but when we saw Anahid Dinkjian's post for a Dikranagerdsi dish called Khatoon Boodhi on FB, we looked at each other and shrugged our shoulders because we'd never heard of it.
Could it be a recipe from the land of our ancestors? We set out to find the answer.
This recipe pictured above was made by Anahid's mother, Araksi who received the recipe from her husband Onnik's mother, from Dikranagerd.
Therefore, the assumption we made is that this is a Dikranagerdsi dish.
To further establish the recipe's origin, I checked on Charles Kasbarian's (C.K.) Armeniapedia page to see if he had it listed in the index of his 'The Dikranagerd Mystique Armenian Cookbook (In Process)'- and- he does! His recipe for 'Kadin Boudi' can be found under 'Main Dishes'.
(A word to all: Spellings vary greatly in Armenian recipes names.)
C.K. points out the following explanation of the recipe's name:
"Also known as Khanum Boudi = Lady's Thighs.
Khatoun is lady in Arabic, and Khanum is lady in Persian.
The difference is:
Khatoun is a lady of inferior rank, and Khanum is a lady of superior rank."
Given these two sources, I feel safe in saying that this recipe is of Dikrangerdsi origin, although I'm certain other regions have similar dishes.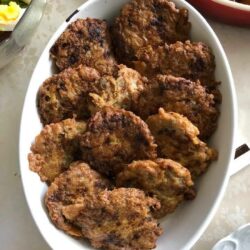 Khatoon Boodhi
Rice and Meat Patties from Araksi Dinkjian
Ingredients
½

cup

uncooked short grain rice

(such as Carolina Rice, cooked according to package directions)

½

lb

raw ground lamb

½

lb

raw ground beef

1

onion, medium

(coarsely chopped)

salt, pepper, Aleppo pepper, ground coriander

(seasonings measured according to your own taste)

1

beaten egg

(for meat mixture)

1

beaten egg

(for dipping)

canola oil

(for sautéing and pan frying)
Instructions
Cook ½ cup rice according to package directions. Once cooked, allow rice to cool completely.

Sauté chopped onions in 1 to 2 Tbsp. canola oil until soft but not brown. Allow onions to cool completely.

In a large bowl add the ground lamb and beef, the cooked and cooled rice and onions, 1 beaten egg, and the seasonings measured to your taste. Mix ingredients with your hands until well-combined.

Form mixture into small patties of uniform size and thickness.

Dip the patties into beaten egg. Coat on both sides.

Place enough canola oil to coat the bottom of a large skillet. Turn burner on to medium heat. Add patties to skillet without crowding them. You might have to cook them in smaller batches, Pan fry patties until golden on both sides and meat is cooked through.
(Visited 989 times, 1 visits today)