It's getting hot and summer drink recipes have been on my mind. My go-to is tahn, an easy-to-make Armenian yogurt drink. I've never been a fan of drinking milk, but I could drink tahn all day long.
Considering that the main ingredient is madzoon (plain yogurt) it's important to use quality yogurt. If you are feeling adventurous you could make homemade madzoon. I was feeling lazy. Luckily, I found a new favorite, Erivan Dairy. I stumbled upon it at Earth Fare, a Carolina-based health and wellness grocery store chain. The label caught my attention immediately because the name sounds like Yerevan, the capital of Armenia, and the label art looked like a Vosbikian band album cover. There were zero references to being Armenian-owned on the packaging, but a quick phone search confirmed that it is. The brand is owned by the Fereshetians, an Armenian family with a dairy farm in Pennsylvania. According to this article in The Armenian Weekly, Erivan Dairy is the sole manufacturer of Armenian madzoon in the US. Very exciting and also kind of crazy that we had never encountered it before.
If you can find it, definitely try it. It's light, slightly salty with a tart kick that is perfect for tahn.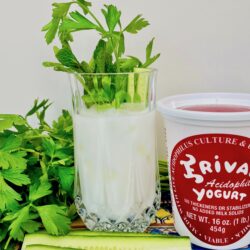 Tahn, an Armenian yogurt drink
A refreshing summer drink recipe.
Ingredients
½

cup

plain yogurt

¼

cup

water

(add more or less until you reach the desired consistency to drink)

ice

salt

(a pinch, optional)

mint or parsley sprigs

(optional, for garnish)

cucumber spear

(optional, for garnish)
Instructions
Place the yogurt in a tall glass, then add chilled filtered water. Stir to blend.

Add ice cubes to fill the glass and garnish how you like.
(Visited 1,572 times, 1 visits today)