My family LOVES stuffed grape leaves, (aka sarma or yalanchi) but the process of stuffing the rice filling into finicky leaves can be somewhat tedious.
The same goes for kufteh, Armenian meat and bulgur stuffed 'meatballs' – a delicious, yet time-consuming recipe which requires the careful shaping of the outer shell and stuffing it with the filling.
Fortunately, there is a short-cut version for kufteh called 'Sini' Kufteh. It is prepared by alternating layers of the shell and filling ingredients in a pan or 'sini, then baking it. No shaping or stuffing involved!
This layering technique isn't new but I thought, why not apply it to the grape leaves and rice recipe?
If you're wondering how the name, Shirdov Sini Sarma, came about , I'll fill you in. I was looking for an appropriate name that depicted the preparation process for layering the grape leaves and rice so I contacted **Charles Kasbarian for his expert advice regarding terminology. He said, "One Armenian word for layer is shird. Thus, Shird-Sini-Sarma would capture all 3 concepts (of this recipe): 'Shird' for layer, 'Sini' for pan, and 'Sarma' for leaves & filling." After Charles and his daughter Lucine collaborated a bit, Lucine felt the name 'Shirdov Sini Sarma' sounded the best.
Brilliant- this name fit perfectly – plus I liked the sound of the alliteration!
(**Sadly, just a few weeks after Charles and I collaborated on this post, he passed away peacefully with his daughter at his side.)
If you've ever made stuffed grape leaves, you know that prepping the grape leaves is a bit time-consuming. It's the same for this recipe. The difference is this – once the grape leaves are ready to use, you would simply layer the grape leaves and filling ingredients in a baking pan, thus eliminating the stuffing and rolling steps – then you would just pop the pan into the oven … now that's pretty easy.
The best part is you get the taste of stuffed grape leaves, without the extra work!
With Easter on the horizon, why not give this a try?
For more of our Easter recipes, please click here.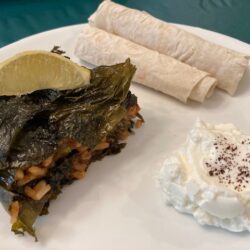 Shirdov Sini Sarma
A baked-in-the-pan version of stuffed grape leaves
Ingredients
30-40

grape leaves, jarred or fresh

(The number of leaves needed depends on the size of the leaves. Save the best-looking leaves for the top.)

2

Tbsp.

olive oil,

(plus more oil for brushing top of grape leaves before baking, and for greasing the baking pan)

1

large

sweet onion, finely diced

1

cup

long grain rice

2½

cups

water

1

(15 oz.) can

no salt-added tomato sauce, divided

(Note: For more tender top-layer leaves, reserve about 1/2 cup of the sauce to spread on the top leaves before baking. )

1

cup

fresh Italian flat-leaf parsley, chopped

½

cup

fresh mint, chopped

(1 Tbsp. dried mint, crushed may be substituted.)

1

cup

pine nuts

(walnuts or unsalted pistachios, coarsely chopped, may be substituted)

½

cup

dried currants

1

tsp.

salt, or to taste

¼

tsp.

ground black pepper, or to taste

¼

tsp.

Aleppo pepper

½

tsp.

paprika, or to taste

¼

cup

freshly squeezed lemon juice
Garnishes:
1

large

lemon, cut into 8 wedges or circles

ground sumac

(to lightly dust on top of the yogurt before serving)
Instructions
Preparing the grape leaves:
Count out 30-40 leaves (jarred or fresh) for the recipe. If using jarred grape leaves, carefully remove leaf bundles and unroll them. Give leaves a quick rinse in a colander under cold-running water.

Fill a large pot half-way with water; bring to a gentle boil. Carefully dip grape leaves, a few at a time, into the pot of water – one minute for jarred leaves; 2-3 minutes if using fresh leaves. Using a slotted spoon, transfer leaves into one or two colanders in order to drain the excess water. (Note: This process helps to tenderize the jarred grape leaves and removes some of the saltiness from the brine.)

Using kitchen shears or a sharp paring knife snip off each leaf's thick stem and discard. Set leaves on a paper towel-lined plate and set aside until ready to assemble.
Preparing the Filling:
In large saucepan add the oil and heat over medium heat; add onions. Sauté for 5 to 7 minutes, stirring occasionally, until they begin to turn light brown.

Add the rice and water; bring to a boil. Cover, reduce heat to medium-low, and cook for about 20 minutes, or until liquid is absorbed.

Remove from heat, and stir in tomato sauce, nuts, parsley, mint, currants, seasonings, and lemon juice. At this point, mixture will be very moist. (See NOTE below regarding the addition of ground meat, if desired.)
Assembling, Baking, and Serving:
Preheat oven to 350°F. Brush the bottom and sides of a 8"x11½" – or 2 qt. – baking pan with olive oil.

Wipe any moisture off grape leaves. Line the bottom and sides of the baking pan with grape leaves – overlapping them, and allowing leaves to hang over sides.

Spread half of rice mixture evenly over grape leaves. Place a layer of grape leaves on top of the rice, then top with remaining rice. Finally, cover the casserole with the remaining grape leaves, making sure rice is completely covered. Seal the sides by folding over grape leaves which hang over the edges. Generously brush olive oil on the top layer of grape leaves, and then spread the top with the reserved 1/2 cup of tomato sauce, if you prefer softer leaves.

Cover pan with foil. Bake 35 to 40 minutes; remove foil the last 10 minutes of baking. Baked sarma should look firm and set.

Remove pan from oven and allow to rest about 15 minutes before cutting.

Dip a sharp knife into a glass of cold water. Using the tip of the knife, carefully cut straight down to create 8 serving pieces for an entree. Cut into smaller pieces for a side dish or appetizer.

Carefully remove portions with a spatula and place on individual plates. Garnish each serving with a slice of lemon.
To Serve:
To round out the meal, serve with plain yogurt dusted with ground sumac, lavash, and a tossed salad!
Notes
(NOTE: If you want to make this a heartier main dish, add ½ lb. of cooked, lean ground turkey, lamb or beef in the final step in preparing the filling.)
(Visited 816 times, 1 visits today)