The Armenian Kitchen was one of the first to introduce 'The Vegan Armenian Kitchen Cookbook'. Since then other sources have made the public aware of this wonderful collaboration, including the Armenian Mirror-Spectator where the following recipe and background story recently appeared thanks to Christine Vartanian Datian.
The Vegan Armenian Kitchen Cookbook (released in January 2020) is a joint project between the creator of YouTube's Vegan Armenian Kitchen, Lena Tashjian, a writer and vegan recipe developer based in Toronto, and Siroon Parseghian, a photographer and creative director based in Los Angeles.
They met in Armenia in 2012, and reunited in Los Angeles six years later to set the wheels in motion for this endeavor. After living in Armenia for six years, Lena is on a mission to not only veganize the Armenian dishes she grew up with, but also highlight the plant-based staples present in both Armenia and the diaspora. Siroon, with her unique vision and style, is passionately bringing the recipes, stories, and the cookbook itself to life. Lena adds, "Integral components of Armenian dining and cuisine include abundance, generosity, and a love of good food. Our cookbook showcases that it is possible to cut down or eliminate animal product consumption while still being able to enjoy many classic Armenian dishes."
"We are proud of our commitment to bringing awareness to the variety of Armenian foods available that are naturally free of animal products, as well as the history, stories, and folklore behind them. With a general shift towards plant-based eating on the rise, we are excited to bring some much-needed diversity to the vegan food scene," says Lena. While the recipes are the main component, The Vegan Armenian Kitchen Cookbook is an all-in-one resource for Armenian cooking which is intertwined with its rich culture and heritage. From food idioms and detailed explanations on dishes, names and customs, to pantry staples, menu pairing and holiday planning, this cookbook will be an invaluable tool that will serve not only to educate and fascinate readers on Armenian cuisine and history, but also to inspire them to create more plant-based and veganized dishes in their own kitchen.
Olive and Walnut Salad or Shepherd's Dinner is a delicious dish that hails from Musa Ler. It is said to have been created out of utility, as it was a quick and accessible meal for those working the land. On top of it being flavorful and unique, this festive color combination of green olives and ruby red pomegranate arils makes it a perfect addition to any holiday or special occasion menu.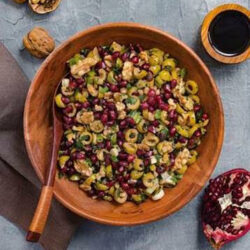 Olive and Walnut Salad or Shepherd's Dinner
This is Lena Tashjian's Olive and Walnut Salad from her wonderful cookbook The Vegan Armenian Kitchen.
Ingredients
1½

cups

green olives

(pitted, either whole or sliced)

½

onion, small

(finely chopped)

½

cup

walnuts

(roughly crushed)

2

tbsp

parsley

(chopped, optional)

1

tbsp

pomegranate molasses or syrup

1½

tbsp

tomato paste

3

tbsp

olive oil

(to taste)

¼

cup

fresh pomegranate arils

(optional)
Instructions
Mix the olives, onion, walnuts, parsley, and pomegranate molasses or syrup together in a bowl. 

Add the tomato paste and olive oil, and mix well. Set aside for 15 to 20 minutes to allow the flavors to combine. 

Top salad with fresh pomegranate arils, if using, and enjoy. 
(Visited 935 times, 1 visits today)