In light of our current circumstances relating to food shopping and food preparation, I'm returning to a more economical method of using ingredients – especially since there is no guarantee the products we'll need will be in on the store's shelves.
Therefore, I've decided it time to resume recycling vegetable scraps to create broth for a multitude of recipes.
Years ago, I posted a recipe for Potato Peel Broth, which makes a pretty tasty soup base! This time around I'm without the potatoes, but the celery, carrots, onions, peppers and garlic I do have will work together just as nicely to create another tasty soup.
The soup I made with the following broth was Pasta e Fagioli. Both recipes included below.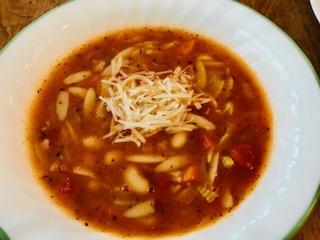 Pasta e Fagioli
This hearty, tasty pasta- bean soup is made with a homemade vegetable broth created from vegetable peels and such. Add a little of this-and-that, and before you know it, the soup is ready!
Ingredients
Homemade Vegetable Broth Ingredients
Use a variety of vegetable scraps from carrots, celery, onions, mushroom – or whatever vegetables you have on hand.

(about 2 to 3 cups-worth)
Pasta e Fagioli Ingredients
2

Tbsp.

olive oil

½

cup each

diced onions, bell peppers, celery, carrots

6

cups

homemade vegetable broth

1

15-oz. can

diced tomatoes

(undrained)

2

Tbsp.

tomato paste

1

15-oz. can

Northern beans

(undrained (Any type of white bean will work.))

¼

cup

small pasta 

(such as orzo, Ditalini, elbows, small shell pasta)

1

tsp.

Italian seasoning blend

(or use a combination of dried oregano, dried basil to equal 1 tsp.)

salt and pepper

(to taste)

grated Parmesan cheese

(to sprinkle on top of each serving)
Instructions
Place a variety of on-hand vegetable scraps in a large pot. Cover the scraps with 6+ cups of water; season with salt, pepper, bay leaves. Bring to a boil; reduce heat, cover and simmer for about an hour. Add more water, as necessary.

Strain solids from liquid; discard solids.

Allow broth to cool a bit. Cover container and refrigerate until ready to use.
To Make the Pasta e Fagioli
In a large pot, heat olive oil on medium heat. Add all of the diced vegetables and saute until softened, about 5 minutes.

Add vegetable broth, diced tomatoes with its juice, and tomato paste. Stir to blend in the paste. Add seasonings. Bring to a boil, reduce heat to medium. Add pasta and stir. Cook for about 8 minutes, stirring now and then, making sure pasta doesn't stick to the bottom of the pot.

When the pasta is tender, add undrained beans. Cook an additional 5 minutes.

Serve with a sprinkling of shredded Parmesan cheese.
(Visited 321 times, 1 visits today)