My maternal grandmother (aka Yeranuhe Nanny) used a lot of bulgur and potatoes in her everyday cooking. In fact, most of her dishes were suitable for a vegetarian diet, thus fitting for Lent. Meat was served in small portions on the occasions it was served at all; larger cuts of meat – either lamb, chicken or turkey – were served mainly for very special meals.
One dish I recall is Nanny's bulgur-potato kufteh shaped like thin cigars and served with lettuce leaves as a wrap. When grape leaves from her back yard arbor were young and tender, she'd serve those in place of the lettuce leaves. Nanny made enough of her own red pepper paste (an important ingredient in so many of her recipes – including this one) in late summer to last until the next season.
Such fond memories!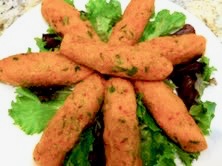 Bulgur and Potato Kufteh
A delicious, hearty vegan, and Lent- appropriate Armenian dish.
Ingredients
½

cup

#1 (fine) bulgur

water

3

tbsp

olive oil

½

cup

green and red peppers

(finely chopped)

1

cup

onion

(finely chopped)

½

lb

potatoes

(boiled, peeled)

¼

cup

parsley

(finely chopped)

1

tbsp

red pepper paste softened with a splash of water

(tomato paste with a dash of cayenne pepper can be substituted)

½

tsp

cumin

black pepper

(just a dash)

1

tsp

salt
Instructions
Place bulgur in a bowl adding just enough warm water to cover it.  Cover bowl with plastic wrap. Allow to sit for about 10 minutes, or until water is absorbed. Test bulgur to make sure it has softened to a tender, yet slightly chewy texture.  Drain any excess liquid.

In a skillet, heat the olive oil over medium-high heat. Sautė the peppers and onions until they soften, about 10 minutes. Set aside to cool.

Gently mash the boiled potatoes and set aside.

Once the bulgur has softened enough and the excess liquid is drained, add the peppers, onions, mashed potatoes, parsley, and the rest of the ingredients. Knead until well-combined. Adjust seasonings, if necessary.

Shape as desired –cigars; round, flat patties, etc. Arrange on a platter.
Notes
To serve: wrap in lettuce or grape leaves – or simply eat with a fork
(Visited 776 times, 1 visits today)