When our daughter was in college in Tampa, we often made the tedious 4-hour drive to visit. It was always worth it to spend even a little time with her.
One spring weekend, she wanted to take us a nearby Persian restaurant for dinner with one of her college friends. The big draw? A belly dancer was scheduled to appear that night.
It was Saturday, so we made reservations to ensure a table for the performance.
The place was pretty empty when we arrived, but figured it would fill up closer to belly- dancing time. As we perused the menu, we spotted tourshi under "appetizers." We've always been fans of the colorful, crunchy, tangy bite of the various fresh vegetables that become tourshi.
We place an ordered of the mouth-watering tourshi only to be told it wasn't ready yet. When we asked how long before it would be ready, the server said, very seriously, "In a few weeks." We nodded our heads in an understanding, yet disappointed manner, while Mandy's college friend
gave a very puzzled look.
A few weeks? Was that a joke?
We explained that the pickling process takes time — BUT, at least we would be entertained by the belly dancer. So, we asked what time the belly dancer was to perform. The server replied, very seriously again, "Oh, not until next autumn; her last performance was last Saturday."
Next autumn? Boy, we were really batting zero here!
We did, however, enjoy our dinner – without tourshi, and without the belly-dancer.
I figured the belly dancer must have been making the tourshi. We decided to visit again during the next semester, when the tourshi and belly dancer were both "in season" – and calling first – just to make sure.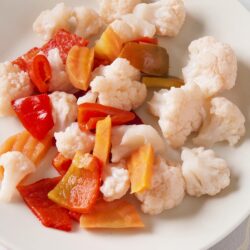 Tourshi
Assorted pickled vegetables that make a great snack or condiment.
Ingredients
Vegetables
celery

cabbage

carrots

cauliflower

string beans

Italian Frying Peppers

(seeds removed and cut into chunks)
Brine Ingredients
1

gallon

water

1

cup

kosher salt

1

quart

vinegar

(white or apple cider; cider preferred)
Other Ingredients
6

cloves garlic

(peeled)

2

tsp

pickling spice
Instructions
Brine Instructions
Boil the brine ingredients for 10 minutes.
Pickling Instructions
Sterilize 4 quart-sized jars and lids.

To each jar add 1 or 2 cloves of peeled garlic, and ½ teaspoon pickling spice.

Layer a variety of the washed, cut vegetables in each jar.

Pour brine over the vegetables in each jar.

Seal, and set aside at room temperature.

Tourshi should be ready in about one week.
(Visited 2,456 times, 1 visits today)