Here's where the debate begins. Is there a difference between tabbouleh and eech? Some say there is a difference; others say they are one-in-the-same.
Ask a connoisseur, and they'll tell you that tabbouleh uses uncooked ingredients, whereas eech ingredients are cooked.
Frankly, it doesn't matter to me one way or the other; they use similar ingredients and taste great. What else do you need to know?
When I spoke at St. David Women's Guild last November, I served the members my maternal grandmother's sarma gurgood and banerov hatz recipes. A few days later, guild member Lucy Hamalian, emailed me two recipes from her friend Helen Der Aprahamian – tabbouleh and eech. Helen is originally from Syria, as were my maternal grandparents – even so, their tabbouleh recipes are different.
Since my grandmother never made eech, I wanted to test Helen's recipe, which was modified by Lucy.
(See my notes and evaluation at the end.)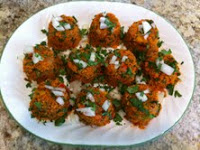 Helen Der Aprahamian's (Modified) Eech Recipe  
Eech, a cooked version of Tabbouleh
Ingredients
¼

cup

olive oil

1

large

onion

(finely chopped – Cook half of it in olive oil and save the uncooked half to mix with parsley for topping.)

½

green pepper

(finely chopped)

½

bunch

flat-leaf Italian parsley

(finely chopped – Use 3/4 of it in mixture and save 1/4 to mix with onion for topping.)

1

8- oz. can

tomato sauce

¾

cup

water

¼

cup

lemon juice

1 ½

tsp.

dried mint

(crushed)

½

tsp.

dried basil

(crushed )

salt and pepper

(to taste)

1

cup

bulgur, fine

(#1 size)
Instructions
Sauté onion and pepper in olive oil until soft. Add tomato sauce, water, lemon juice and seasonings. Stir well, bring to a boil and let simmer for 10 minutes. Remove from heat.

Add bulgur, stirring well. Stir in 3/4 of the chopped parsley.

When cool enough to handle, scoop up a handful and shape into equal-sized sausage shapes until mixture is all used. up (or- I like to use a 1/3 cup measuring cup for a uniform shape and look when it is inverted. Sprinkle the top with reserved mixture of onion and parsley mixture.
Notes
This recipe's yield varies: Makes 8 entree size portions, or 16 pieces for appetizers – or – since I used  1/3 cup measure for equal portions, the recipe yielded 10 (1/3 cup) servings.
I used:
•  a mixture of miniature red, yellow and orange peppers instead of green peppers.
•  red pepper paste in addition to tomato paste plus enough water to create the 8 oz. of sauce.
 The #1 bulgur softens nicely in the hot mixture, and holds its shape well for the presentation.
 You can add seasonings of your choice to suit your taste.
My Evaluation of Eech:
Needless to say, we enjoyed it very much, but I'll stick to my grandmother's uncooked tabbouleh (sarma gurgood) rather than  cooked eech – only because there are fewer things to wash at the end!
(Visited 758 times, 1 visits today)