Stanley Kooyumjian's story and recipes recently appeared in The Armenian Mirror-Spectator. I share this with you, thanks to Christine Datian.
Stanley Kooyumjian's story:
The original concept for Stanley's famous Armenian Cuisine Restaurants was developed at the Home Market, an old downtown Fresno grocery store that opened in 1903. It was later owned by George Kooyumjian, Stanley's hard-working immigrant father.
George came to America and settled his family in Fresno at the time of the Armenian Genocide. He began working at the Home Market as a butcher, preparing lamb cuts and marinated shish kebab. George's prized recipe for shish kebab had been passed down by father to son in the Kooyumjian family for generations. The Home Market's popularity grew with Fresno's local Armenian community in the 1930s and 1940s, as it specialized in featuring a variety of Armenian foods like rice, bulgur, beans, lamb, bread [lavash], cheese, grape leaves, and plenty of fresh fruits and vegetables.
George became a respected caterer for local Armenian church dinners and picnics throughout the San Joaquin Valley.
On his father's death in the summer of 1958, young Stanley Kooyumjian and his devoted, talented mother, Gladys, took over the family business, worked together for years. They eventually opened Stanley's Armenian Cuisine Restaurant in downtown Fresno, and later, a second location, Stanley's on Shaw Avenue. Both very popular, Stanley's restaurants were known for featuring delicious Armenian cuisine, impeccable service, and for an endless choice of fine wines and spirits. Like his father, Stanley specialized in catering services for many local Fresno businesses, special events, and weddings, and was an expert in wine and the preparation of lamb. His catering services served as many as 1,500 people at a single setting, with Stanley often cooking his family's traditional shish kebab recipe over his own barbecue.
When Stanley sold the family business, he did not abandon fine cuisine, lamb, or wine. He retired from the restaurant business in 1983 and joined the American Sheep Producers Association as the West Coast marketing director. In 1998, at an Armenian Studies Banquet at California State University, Fresno (CSUF), Stanley served as a special guest chef, preparing a memorable braised-lamb shanks dinner for over 250 guests for His Beatitude Archbishop Torkom Manoogian, Armenian Patriarch of Jerusalem.
Here are two of Stanley's recipes- Shish Kebab and Kouzou Kuzartma (Baked Lamb Shanks). Enjoy!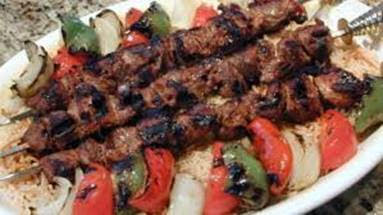 Stanley's Shish Kebab
A classic Armenian lamb shish kebab recipe. (Khorovatz)
Ingredients
3

lbs.

lean leg of lamb

(cut into 2-ounce cubes)

1½

cups

yellow or white onions

(diced)

1

cup

green bell pepper

(diced – Note: Diced red onions, zucchini, red or yellow bell peppers, eggplant and cherry tomatoes may be used in this recipe.)

1

cup

fresh parsley

( minced)

2-3

large

garlic cloves

(finely minced)

about 2

tsp.

salt

about 1

tsp.

black pepper

½

cup

inexpensive red wine, such as Carlo Rossi burgundy

(or juice of one large freshly squeezed lemon)

¼

cup

olive oil
Instructions
In a medium (non-corrosive) bowl, combine cubed lamb, onions, bell pepper, parsley and garlic. Add salt and pepper. Pour wine (or lemon juice) and olive oil over lamb and vegetables, then mix well.  Cover tightly, refrigerate, and allow to marinate 6-24 hours.  Mix occasionally.

Thread meat onto skewers or alternate with pieces of onions and bell peppers (and other vegetables, if used).

Place skewers on hot grill over hot coals or under hot broiler.  Turn as needed to cook uniformly on all sides until the meat is medium doneness (browned well on the outside and still pink on the inside). 

Serve with rice or bulgur pilaf.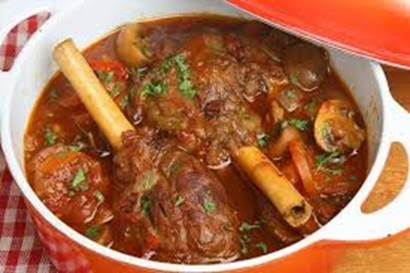 Stanley's Kouzou Kuzartma (Baked Lamb Shanks)
Baked Lamb Shanks – another prized recipe from Stanley Kooyumjian
Ingredients
4

lamb shanks

(preferably from a leg of lamb)

Salt and pepper

4

cups

white or yellow onions

(sliced)

1

large

bell pepper

(coarsely chopped)

¼

cup

minced fresh parsley

(reserve 1/2 the minced parsley)

4

large

cloves garlic

(minced)

1

10-oz. can

tomato sauce

1

28-oz. can

crushed tomatoes in puree or diced tomatoes, drained

½

cup

California burgundy wine

(or to taste)

½

cup

water

¼

cup

olive oil
Instructions
Preheat oven to 225-250 degrees F.  Thoroughly salt and pepper lamb shanks.  In a roasting pan with rack, add water and place lamb shanks on rack.  Bake uncovered for 2 hours. 

While shanks are browning in oven, proceed with sauce.  In a skillet, sauté onions, garlic and bell pepper until onions are opaque.  Add crushed or diced tomatoes, wine and 1/2 of the parsley.  Salt and pepper to taste. 

Remove shanks from oven.  Remove rack, drain liquid, and discard.  Spread sauce evenly over shanks. Increase oven temperature to 350 degrees F. Cover lightly with lid or foil and place in oven.

Bake at 350 degrees for 1 hour.  Remove lid or foil and return to oven for another 30 minutes. 

Garnish with remaining sauce and parsley and serve with rice or bulgur pilaf.
(Visited 1,128 times, 1 visits today)