When Gloria Hachigian-Ericsen asked me if I had a bulgur recipe that includes potatoes, onions, tomato, and green beans, I chuckled to myself. What Musa Daghtsi kitchen doesn't have a version of this dish?
Here's what Gloria asked – and remembered – about her mother's recipe:
"DO YOU MAKE BULGHUR PILAF WITH POTATOES, ONIONS AND STRING BEANS WITH TOMATO? THAT WAS MY DAD'S FAVORITE PILAF AND IF I REMEMBER CORRECTLY, A SUVEDIATSI RECIPE. YOU CARAMELIZE THE ONIONS AND COOK THE BEANS WITH IT A BIT ALONG WITH TOMATO…..I THINK MOM USED PASTE. OH, HOW I WISH I HAD PAID MORE ATTENTION. SO MANY MISSED RECIPES! LET ME KNOW ABOUT THIS BULGHUR PILAF WITH "POTATOES" IF YOU CAN. GLORIA"
Well, Gloria, my grandmother, who was very friendly with your aunt Elizabeth Hachigian, cooked bulgur with all sorts of ingredients. She mixed her bulgur creations with vegetables, chick peas, caramelized onions, raw onions, tomatoes, tomato paste – you name it. Bulgur lends itself to endless recipe possibilities and Nanny knew most of them!
My version of Nanny's recipe probably differs a bit from the one Gloria remembers, but I'm guessing it's pretty close. Mine also uses a modern appliance (for one step) that Nanny didn't have – a microwave oven.
My favorite part is the caramelized onions – the crowning jewel of this dish! Potato-Green Bean Bulgur Pilaf is really a meal in itself – no need for meat, unless, of course, you want some.
As a stand-alone entrée, serve the bulgur with a nice big salad dressed with olive oil, lemon juice, and a pinch of oregano. That's all you'll need!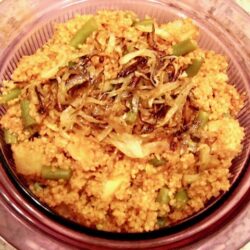 Potato-Green Bean Bulgur Pilaf
This Potato-Green Bean Bulgur Pilaf makes a great side dish, or can be a hearty vegetarian meal in itself.
Ingredients
Pilaf Ingredients
1

cup

green beans

(trimmed and cut into ½ inch pieces)

1

small

baking potato

(peeled and cut into a small dice)

2½

cups

broth or water

(chicken or vegetable broth)

1

tbsp

tomato paste

1

cup

bulgur

(either #2 or #3 sized bulgur)

salt and pepper

(to taste)
Caramelized Onions Ingredients
1

medium

onion

(thinly sliced)

1½

tbsp

olive oil
Instructions
In a microwave-safe bowl, cook cut green beans and diced potato in 1 cup of the broth, covered, for about 5 minutes, or until beans and potatoes are soft, but not mushy (remember, they'll continue to cook with the bulgur). Remove the vegetables from the broth using a slotted spoon. Set aside. SAVE the cooking broth!

Combine the remaining cooking broth with enough chicken broth to equal  two cups; pour into a large saucepan.

Bring the 2 cups of broth to a boil. Stir tomato paste into the hot broth and blend.

Add the green beans, potatoes, bulgur and seasonings to the broth. Bring to a boil; reduce heat, cover and simmer 15 to 20 minutes or until liquid is absorbed.  Remove pot from heat. Allow bulgur to rest about 5 minutes after cooking.

While the bulgur is cooking, heat 1 to 2 Tbsp. olive oil in a skillet. Sautė onions until they are caramelized (a deep golden brown) – about 7 to 8 minutes. Set aside.

Fluff bulgur with a fork; place in a serving bowl. Top with caramelized onions before serving – or gently stir onions into the bulgur, if you prefer.
(Visited 312 times, 1 visits today)