Patience is vital when making Gouvedge – at least the way we make it. It takes time to prep and time to cook. So, if it's Gouvedge you wish to serve this autumn and winter season, start planning now.
We started planning weeks ago by ordering lamb shanks from our local source – Fox Trot Farm.
Now that it's cooled-down a bit we forged ahead with our plan to make this heart-warming, tummy-satisfying dish – and – we're glad we did!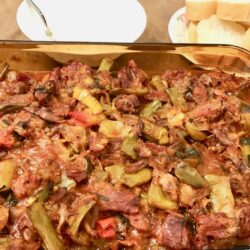 Lamb Shank Gouvedge
A heart-and-tummy-warming casserole of lamb and vegetables.
Ingredients
4

large

lamb shanks

(trimmed of fat)

lamb broth

(See Day 1 preparation for details)

6

oz

tomato paste

15

oz

can diced tomatoes

(with liquid, optional)

1

lb

fresh green beans

(end trimmed, cut into 2" pieces)

2

medium

zucchini

(cut into large chunks)

1

large

eggplant

(cut into cubes)

1

lb

okra

(cut into small pieces, optional)

2

medium

red or orange peppers

(seeds removed, and cut into chunks)

1

large

onion

(sliced)

3

garlic cloves

(peeled and thinly sliced)

1

bunch

flat leaf parsley

2

tbsp

olive oil

salt

(to taste)

pepper

(to taste)

allspice

(to taste)

oregano

(to taste)

paprika

(to taste)

Aleppo pepper

(to taste)

cayenne pepper

(to taste)

ground coriander seeds

(to taste)
Instructions
Day 1 Preparation
Place the trimmed lamb shanks in a large pot with enough water to cover. Bring to a boil, skimming any residue from the surface during the cooking process. 

Reduce temperature to medium-low; place a cover, tilted, on the pot. 

Cook for 1 to 1 ½ hours, or until the meat is tender enough to easily be removed from the bones. 

Periodically check the water level; do not let it all evaporate. Add more as needed. You should end up with at least 3 cups of broth.

While the lamb cooks, cut all of the vegetables as noted above.

Remove shanks from the liquid; place in a container, cover and refrigerate. 

Strain the liquid from the pot; discard any unwanted particles. Place strained broth in a bowl, cover and refrigerate overnight.
Day 2 Preparation
Remove meat from the bones and cut lamb into bite-sized pieces. Place meat in a bowl.

Remove and discard the layer of fat from the surface of the chilled, gelatinous lamb broth.

Using a large pot, sauté the onions and peppers in a few Tbsp. olive oil over medium-high heat.

Season with a sprinkle of salt and pepper as it cooks. Add the congealed broth.

Add the tomato paste, stirring gently until paste is blended with the broth. Add lamb pieces.

Add the prepared vegetables. Season with salt, pepper, and any combination of herbs and spices as listed, to suit your taste.

Cook, covered, on low heat, for about 45 min. to 1 hour. Stir occasionally, making sure the liquid hasn't evaporated. Add water, if necessary.

Preheat the oven to 350°- 375° F (ovens vary). Lightly oil a 9" x 13" casserole dish. Evenly spread the lamb-vegetable mixture. Cover pan with foil and bake for 1 hour. Remove foil and bake an additional 45 minutes or until top begins to brown.

While gouvedge is baking, make rice or bulgur pilaf to serve as a side dish. A side of plain yogurt is always a welcome addition, too.
Notes
Crusty bread is required for dipping!
Highly recommend serving with a big scoop of cold, plain yogurt on top!
(Visited 538 times, 1 visits today)