According to Irina Petrosian's definition in her book "Armenian
Food: Fact, Fiction and Folklore", bagharj is an unleavened flatbread made without salt.
As this recipe's spelling varies, so do the recipes themselves. Some refer to this as pagharch, others baghaj.
Some say it's nazook, others katah (gata). It's enough to make one's head spin!
A very reliable source links pagharch with the Badarak:
Noted author, CK Garabed, wrote a piece linking pagharch with the Armenian Church service. (After clicking on the linked phrase, scroll down to 'An Unusual Look at Biblical Subjects".)
In addition, CK sent me a pagharch recipe from his friend Takouhi
(Queenie) Tashjian. Another version, baghaj, from my long-time friend Barbara
Hovsepian follows.
I offer you these two recipes.
Takouhi (Queenie) Tashjian's Pagharch
1 lb. shortening (2 sticks butter and 1 cup Crisco
vegetable shortening)
2 pkgs. Dry yeast dissolved in 1 cup lukewarm water
6 to 8 eggs (six will do)
4 ½ to 5 lbs. flour (about 14 coffee cups)
1. In a large mixing bowl, combine together all of the ingredients, except for the flour.
2. Sprinkle some black seeds into the mixture.
3. Add the flour last to desired consistency to form a very soft dough.
4. Let rise (cover well and place in a very warm spot for 2 hours).
5. Divide dough into 3 or 4 rounds.
7. Shape into long loaves and cut into 2" width pieces.
8. Brush with egg and sprinkle sesame and black seeds.
9. Bake 30-40 minutes at 375°F.
Barbara's recipe is a smaller version of Takouhi's, yielding two balls of dough. Unlike Takouhi's , Barbara's has a filling and can be made in a food processor.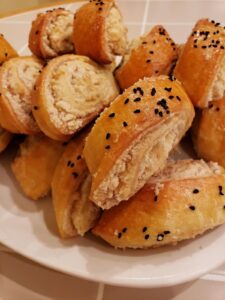 Barbara Hovsepian's  BAGHAJ
3/4 cup
butter (1 ½ sticks)
scant 1/4
tsp. salt
1 pkg. dry
yeast – proof in 1/2 cup warm water and 1 teaspoon sugar
Filling:
3 tablespoons
butter
1/2 cup
chopped walnuts
Topping:
black seed or
sesame seed
NOTE
: If you prefer a more abundant
filling, the amounts can be doubled.
1. Put 2 cups
flour in the food processor.
Melt butter
in a pot. Remove from heat and add milk. Pour in processor.
Add salt and
pulse a bit.  Add 1 egg and proofed
yeast. Process a second to mix. Add flour and process to mix well.
If mixture is
not balling up and is straining processor, add more flour a heaping tablespoon
at a time until it balls up and doesn't stick to sides.
2. Put in
large pot.  Cover and let rise until
double in bulk at least 2 hours.
3. Melt
butter in frying pan. Add flour and blend with back of wooden spoon. Remove
from heat. Add sugar and mix
well. This
should be a fine crumbly mixture. Add chopped walnuts.
4. Turn out
dough and separate into two parts. Roll one part into a
large
rectangle. Spread with filling. Roll one long side to the other
ending with
the edge down. Do the same with the other half of the
dough. Brush
with egg and sprinkle on black seed or sesame seed.
Let sit and
rise a while – do not rush.
5. Cut rolls
with diagonal slices to achieve diamond shape portions.
6. Place on
ungreased baking sheet lined with parchment paper for convenience and bake

**

at
350°F until golden brown, switching trays on oven racks to prevent bottoms
burning and help tops brown.
**

Baking
time depends on size of the piece.  It
takes about half an hour in the convection oven to make the small ones, longer
for the bigger ones.  A regular oven
takes longer.  I give an estimate of time
and tell people when it smells great and looks golden, it's done.  Some people prefer it well done and almost
brown while others like it pale.
Barbara's
sister puts cinnamon in it.  My mother
didn't but aunt did sometimes.  So
cinnamon is an option.
Also,
her sister's recipe comes out soft while Barbara's is firm. 
(Visited 907 times, 1 visits today)