My first encounter with midia dolma was in autumn 1968 at an upscale Armenian wedding reception on Long Island.
It wasn't a large affair, but it was lavish. The reception was catered by an Armenian restaurant in New York City that had a fabulous reputation; the food was impeccable.
I had just turned 19. My younger brother, Drew, and I were lingering around the buffet table filled with luscious appetizers, eyeballing a platter of something we'd never seen before – mussel shells stuffed with mussels, rice, something that looked like little raisins, and pine nuts.
It looked intriguing, but we hesitated. One of the older guests assured us it was worth tasting, so we figured "what the heck." One bite was all it took! The flavors were unique, and addictive.
Drew and I couldn't get enough. A platter would arrive; we'd polish it off. This went on for a platter or two more. We finally had our fill, and feeling a little guilty, decided we'd better let others have some, too.
I mentioned to my Aunt Arpie that I'd love to make this recipe, but it looked like so much work. Lucky for me she had a short-cut recipe that she shared.
I've been using it for years. Now I'll share it, too.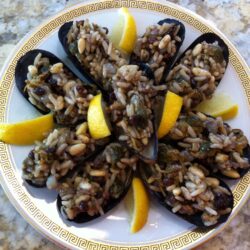 Midia Dolma (Armenian Stuffed Mussels)
Mussel shells stuffed with mussels, rice, currants, and pine nuts
Ingredients
1

onion, large

(finely chopped)

¼

cup

vegetable oil

½

cup

rice

1

cup

water & mussel juice

(combined. I use canned mussels for this recipe; it's so easy! Drain as much liquid from the canned mussels as you can, then add enough water to make 1 cup)

1

can of mussels, large

(in brine, NOT marinated mussels. 2 small cans can be used instead. )

salt & pepper

(to taste)

½

tsp

allspice

½

tsp

cinnamon

(or to taste. Warning! Too much cinnamon can make the recipe bitter.)

½

cup

dried currants

(or raisins. If using raisins instead of currants, chop them.)

½

cup

pine nuts

1

lemon, whole

(juiced)
Instructions
In a medium saucepan, sauté onion in oil until softened, but not brown.

Add rice and water-mussel juice combination to the onion.

Add seasonings. Mix. Cover and cook until rice is tender (about 15-20 minutes).

While rice is cooking, rinse and de-beard the mussels. Set aside.

Add currants and pine nuts to cooked rice. Gently fold in the mussels.

Adjust seasonings, if necessary.

Add lemon juice to the mixture.

Cover and chill until ready to serve. For best flavor, make a day in advance.
(Visited 1,158 times, 1 visits today)