Leftovers can be dreary if all you do is heat and eat. But if you enjoy cooking, you probably enjoy the creative challenge of transforming a bit of this and a portion of that into something entirely different.
We've always had fun this way but saving scraps has suddenly become a serious concern as the pandemic has made it necessary to cut back or even eliminate trips to the store. As a result, we never open the fridge without surveying every covered, labeled plate and container.
I was taking a turn at this the other day when I spotted two leftover lamb loin chops, not really enough even for lunch after trimming the meat away from the bones.
The original lamb loin dinner served with bulgur and salad.
Then I spotted a carton of eggs and came up with an idea I thought would be fun as well as delicious.
I quickly rounded up a few very simple ingredients to make an Armenian-style lamb hash. You'll recognize that it's Armenian style from the ingredients: onion (of course!), red pepper, parsley and some boiled potato. I seasoned all of it with freshly ground coriander seed, allspice, salt and pepper.
And those eggs? I fried two, over-medium, and placed one atop each portion. (Hash of any kind just isn't right unless it is bathed in egg yolk.) Each dish also got a generous portion of village-style lavash.
When I was satisfied it worked, I called out to Robyn. "Honey, how would you like breakfast for lunch?"
I had reason to believe Robyn would agree: She introduced me to the concept of lunch for breakfast many years ago when the only thing in the fridge was a cold but delicious half pizza. "There are no rules about what time you can eat something if you really want it," she explained.
Luckily, it turned out she hadn't changed her mind in the last 40 or so years.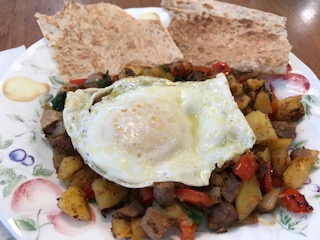 Lamb Hash
An easy and delicious recipe using leftover lamb loin chops.
Ingredients
2½

cooked lamb loin chops

½

tsp

ground coriander

½

tsp

allspice

salt & pepper

(to taste)

paprika

(optional)

1

medium

onion

(coarsely chopped)

½

large

red pepper

(coarsely chopped)

2

small

boiled potatoes

(peeled and diced)

2½

tbsp

flat leaf parsley

(rinsed and patted dry, then remove and discard thick stems)

2

tbsp

olive oil
Instructions
Remove the lamb from the bones and trim away any fat. Cut the meat into bite-size pieces, or smaller if you like. Place lamb pieces in a mixing bowl. Season with the ground coriander, allspice, salt and pepper to taste; mix well. Set aside.

Chop the onion and pepper so the pieces are roughly the size as the lamb.Cut potatoes into large dice, keeping them separate from onions and peppers. Dust with paprika, if desired.

Using a large enough skillet, sauté the peppers and onions together in olive oil over medium-high heat until the onions start to softened and brown. Then add the potato pieces and cook until they start to get crisp.

Add the lamb and parsley. Continue cooking two or three minutes to let the flavors blend. Adjust seasonings, if necessary.

Top each serving of hash with a fried egg. Serve with soft lavash or pita bread.
Video
(Visited 771 times, 1 visits today)