In the early days of The Armenian Kitchen, I received an email from a gentleman in MA asking if I had a recipe for Koolunja, a Kharpertsi variation of choreg. He went on to say that unlike the braided, softer choreg, koolunja has a drier texture that is cut into squares, triangles, or diamond-shapes. I searched but came up empty-handed.
Since I couldn't oblige, I posted a request to readers of Kharpertsi descent asking for their help. I received only one response and passed along the recipe. He appreciated my help, but it wasn't exactly what he was looking for.
Present day:
Just a week or so ago, I received another inquiry about Koolunja – this time from a woman in Fresno, CA. As I searched through my Armenian cookbooks and other resources, I found 3 variations of this 'Old-Fashioned Choreg. I promptly sent along one of recipes, much to her delight.
The recipe I've prepared for this post, is my adaptation of a 'Koolenja' recipe found in the cookbook, 'Armenian Cuisine-Preserving Our Heritage' from St. John Armenian Church in Michigan.
(Note: As stated in the past, many recipes have different spellings and/or ingredient variations based on geographic locations.)
I made minor adjustments to the cookbook's recipe by incorporating some freshly ground spices that I love in choreg – mahlab, fennel seed, and anise seed.
If you prefer the taste of old-fashioned choreg, feel free to omit those spices.
I hope you'll try – and – like this version!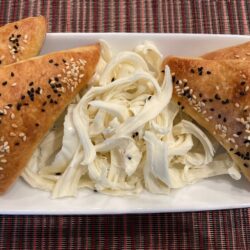 Koolunja (or Koolenja – or- Kooroonja!)
Unlike the braided, softer choreg, koolunja has a drier texture that is cut into squares, triangles, or diamond-shapes.
Ingredients
½

lb.

unsalted butter

(melted and cooled)

1

cup

milk

2

eggs

(beaten)

1

tsp.

salt

2

Tbsp.

sugar

(Note: If you prefer a sweeter product, you can increase the sugar to ½ cup, but then you might not want to add the optional seasonings listed below.)

1

pkg.

active dry yeast

½

cup

warm water

(Plus ½ tsp. sugar)

6

cups

all-purpose flour
Optional seasonings:
1

Tbsp.

freshly ground mahlab

1

tsp.

ground fennel seed

½

tsp.

ground anise seed
Egg wash
1

egg

(beaten)

1

Tbsp.

water
Garnish
sesame seeds and/or Nigella seeds
Instructions
In a large bowl thoroughly combine melted butter, milk, beaten eggs, salt, sugar, and optional seasonings, if using.

In a liquid measuring cup, combine yeast with 1/2 cup warm water (105-110 degress F) and ½ tsp. sugar; cover and allow to proof.

Add the proofed yeast mixture and some of the flour to the ingredients in the bowl with the butter-milk mixture. Add enough of the remaining flour to create a workable dough. Knead dough until smooth.

Place dough in a clean, lightly oiled bowl, cover with plastic wrap and allow to double in size, approximately 1hour.

Remove dough and place on a clean work surface. Pat down dough with your hands to create a rectangular shape that's about ¾" thick. 

Using a pastry wheel, pizza cutter, or sharp knife, cut dough into uniformly-sized squares, triangles, or diamond shapes, for even baking.

Arrange the cut pieces on two baking trays. Be sure to leave room between each piece to allow for expansion during baking.

Place one tray on the center rack and bake for about 15 – 25 minutes (depending on the size of the pieces) or until golden brown. When the first tray is done, follow the same procedure for baking the second tray. Remove baked koolunja from the baking tray and place on wire racks to cool completely.

Store cooled pieces in a container with a tight-fitting lid.
(Visited 1,319 times, 1 visits today)