When Armenians prepare for Easter, chorag is always on the menu. But, this is also a time for baking Easter cookies (Zadigi Kahke). To be honest, I'd never made these before, but decided the time was right, especially since I'd seen a recipe for it in my copy of Aline Kamakian's and Barbara Drieskens' cookbook, 'Armenian Cuisine'.
Before I began, I emailed Barbara because I had a question about the amount of flour listed – it just didn't sound like enough. (It's helpful that their email addresses are in the cookbook for such instances!)
I'm glad I wrote, because Barbara informed me that there was an error in the printed recipe – the cookbook said to use 2 and 2/3 cups flour, when in fact, it should be 6 cups of flour. With my question answered, and with the authors' permission to post this recipe, I got busy in the kitchen.
Here is the updated version of the Zadigi Kahke recipe.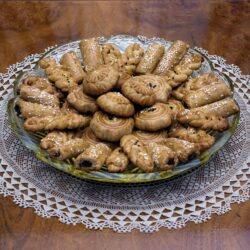 Zadigi Kahke- an Armenian Easter cookie
A tasty Easter cookie that can be chewy or crispy depending on the size and shape you create. Recipe is from Aline Kamakian's and Barbara Drieskens' cookbook, 'Armenian Cuisine'.
Equipment
Stand mixer with paddle attachment or a hand mixer.
Ingredients
6

cups

flour

(sifted)

2

cups

farina

(sifted)

1

cup

butter

(melted)

½

cup

sunflower oil

(safflower oil may be substituted)

½

cup

all vegetable shortening

(melted)

1½

cups

sugar

1

cup

milk

(a bit warm)

1

tsp.

mahlab

(freshly ground)

1½

tsp.

ground nutmeg

1

Tbsp.

yeast

1

egg

1

tsp.

cinnamon

1½

tsp.

ground cloves

1

pinch

salt
Glaze and Garnish Ingredients:
1

egg

2

Tbsp.

milk

1

Tbsp.

raw sesame seeds

1

Tbsp.

black cumin seeds

(aka nigella seeds)
Instructions
In the bowl of a stand mixer fitted with a paddle attachment, blend together 1 ½ cups of the flour, ½ cup of the farina, and the rest of the cookie ingredients. Little by little, add the remaining flour and farina. Knead by hand until a workable dough is achieved.

Roll the dough into balls and place them in a large bowl. Cover with parchment paper and a soft, clean towel. Let the dough rest for two hours.

Roll the balls of dough into fine sausage shapes that can be formed into twists, twisted rings, or braids. Place each shaped piece on parchment-lined baking pans.

Brush the tops with egg glaze, made by whisking equal amounts of egg and milk. Garnish with a sprinkling of sesame seeds or black cumin (nigella) seeds, or a combination of the two.

Preheat oven to 350 degrees F. Bake until cookies are golden brown.
(Visited 4,007 times, 1 visits today)