My family and I had the distinct honor of meeting George Mardikian at his restaurant, Omar Khayyam's, in San Francisco, in the summer of 1967. We were introduced to Mr. Mardikian at his restaurant by my father's cousin, Alice Atikian and her husband Hrant, both long-time San Francisco residents and dear friends of Mr. Mardikian.
My family and I were traveling through California that summer specifically to meet cousins my siblings and I had never met before. I had just graduated from high school, was turning 18 at the end of summer, and would be entering college as a Home Economics major with a focus in Culinary Arts, so this dinner visit was especially exciting for me!

Click here to read about our dinner at Omar Khayyam's.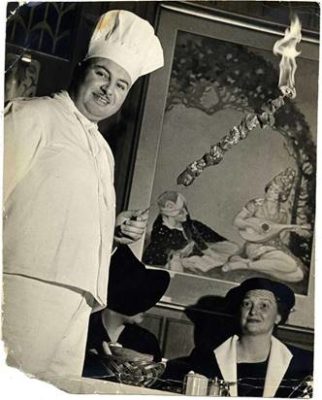 Mr. Mardikian had a difficult early life, as did so many others during the Genocide, but through sheer determination, he not only survived, but rose to great heights. Later in life he became a "world-famous San Francisco restaurateur, philanthropist, and humanitarian who won the Medal of Freedom and dedicated his entire life to feeding and helping people. And he did all of this with a smile."
Please click here to read Christine Datian's complete article about George Mardikian which was published in The Armenian Mirror-Spectator.
And now, for George Mardikian's featured recipe, Chicken Tchakhokhbelli, the "Prince Mdivani Special", named after Georgian princes who favored this dish.
In case it isn't made clear in the recipe, this dish requires two 2-pound chickens, each cut into 4 pieces.
Chicken Tchakhokhbelli
Chicken that is lightly braised, then baked with sherry, and served with rice pilaf.
Ingredients
2

2 lb.

chickens

(each cut into 4 pieces)

½

cup

butter

(1/2 cup butter = one stick, or 1/4 lb.)

1

large

onion, sliced

⅓

cup

sherry or wine

½

cup

tomato juice

1

cup

water

1

tsp.

paprika

1

tsp.

salt

black pepper, to taste
Instructions
Melt the butter in a large frying pan over medium-high heat. Be careful not to burn the butter. Add chicken pieces and braise on both sides until lightly browned, about 15 minutes total. Remove chicken pieces from pan and place in a large baking pan with 2" sides.

Using the same frying pan, sauté the onion slices in the butter left in the pan. Add all of the remaining ingredients to the pan – sherry or wine, tomato juice, seasonings, and 1 cup water. Stir to combine. Pour over chicken in the baking pan.

Preheat oven to 400 degrees F.

Place baking pan in the preheated oven. Bake uncovered for 30 minutes. After the first 30 minutes of baking, turn the chicken pieces over and bake for another 30 minutes, then turn the chicken over again and cook for an additional 15 minutes.

The juices in the pan make a delicious gravy. Serve with rice pilaf.
(Visited 119 times, 1 visits today)