When I was asked to do a presentation for the Women's Guild of St. David Armenian Church in Boca Raton, FL, I was honored. The ladies were interested in having me present some appetizer recipes from my website.
From the many recipes we've posted in the past
2 ½ years, I didn't hesitate to select two dishes that were distinctive reminders of my maternal grandmother, Yeranuhe Vartanesian.
Her Banerov Hatz, or as she called it, Banderoom Hootz, and Sarma Gurgood- the Musa Daghtsi version of Tabbouleh were always a huge hit. The secret ingredient that makes these recipes so unique is red pepper paste. You can generally purchase this in Middle Eastern stores, but it's often mixed with tomato paste.
So what's a cook to do? The answer: make red pepper paste yourself! Nanny and her lady friends from Haji Habibli all made it from scratch, chopping, grinding and mixing everything by hand – home-style food processors didn't exist in her day. It was an exhaustive process, but that was their only option.
Fortunately, we have time-saving devices to speed things along in the kitchen these days.
In preparation for my presentation, I made red pepper paste in advance using, forgive me Nanny, a jar of roasted red peppers. Instead of cooking and sun-drying the red peppers, I cooked the peppers on the stovetop until they turned into a paste. I have to say, it came out pretty good, with very little fuss!
Here are the recipes I prepared and shared with St. David Women's Guild members: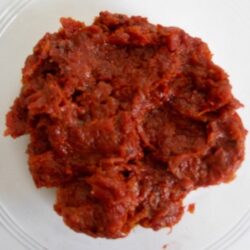 Red Pepper Paste
A staple in our kitchen that creates the flavorful base in numerous Armenian recipes.
Ingredients
6

large

red bell peppers

½

tsp.

cayenne pepper

(Add more if you want extra heat, but be careful!)

1

tsp.

salt

olive oil
Instructions
Wash the peppers and remove the seeds, and white membrane.

Coarsely chop the peppers.

Grind peppers in a food processor, using the metal S-blade. Squeeze out any excess liquid from the peppers. This is a very important step!

Spread the ground peppers in a large non-stick skillet, stir in the salt and cayenne pepper, and bring to a boil.

Reduce heat to a simmer, cook, stirring periodically for about 45 minutes, or until the pepper mixture begins to resemble a thick paste. Allow mixture to cool.

Spoon the red pepper paste into small, sterilized jars. Pour a little olive oil over the top of the paste. Cover tightly, and refrigerate.

At this point you can freeze the red pepper paste. The trick is to use plastic ice cube trays. Place about a tablespoonful of paste in each ice cube compartment.

Place trays in freezer; freeze until red pepper cubes are frozen. Remove red pepper paste cubes from tray and place them in a freezer-safe resealable plastic bag. When ready to use, remove the number of red pepper paste cubes you need and defrost in the refrigerator. Keep the other "cubes" frozen until needed.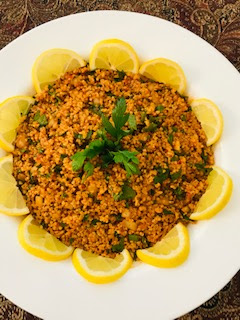 Sarma Gurgood – (Tabbouleh)
My grandmother's version of tabbouleh, a recipe from Musa Dagh, using a good amount of bulgur, chopped parsley, and a secret ingredient – red pepper paste.
Ingredients
2

cups

Bulgur

(size #2 or #3 )

warm tap water

(See directions for amount to use.)

Cumin, Paprika, Allspice, Salt

(to taste)

¼

tsp.

cayenne pepper

(or to taste, optional)

3

scallions

(chopped)

1

medium

onion

(coarsely chopped)

¼

cup

mint leaves

(chopped – Note: 2 tsp. dried mint may be used.)

1

bunch

flat leaf Italian parsley

(thick stems removed, thoroughly washed and roughly chopped)

4

Tbsp.

red pepper paste

(Use heaping Tbsp. of red pepper paste, not level. Note: An equal amount of tomato paste mixed with 1 tsp. paprika may be substituted.)

1

large

lemon

(juiced – Note: add more, to taste, if desired)

½

cup

olive oil

(amount of olive oil is approximate)
Instructions
Place bulgur in a large mixing bowl.

Add just enough warm tap water to cover the bulgur. Cover the bowl with plastic wrap. Allow the bulgur to soak up the water, about 20 to 30 minutes, or until it is soft and still a bit chewy. The bulgur should not be mushy! Strain any excess water, if any.

While bulgur is softening, chop the scallions, onions, parsley and herbs.

Add all of the chopped ingredients, spices, diluted red pepper paste, and lemon juice to the softened bulgur. Toss together until well-combined. Stir in the olive oil a little at a time, combing well.

Cover and refrigerate until ready to serve.

Just before serving, adjust the seasonings, if necessary. If Sarma Gurgood seems a bit dry, add a little more olive oil. Toss to combine. Serve with lemon wedges, if desired.
Notes
This recipe is best when made ahead of time so the flavors can blend.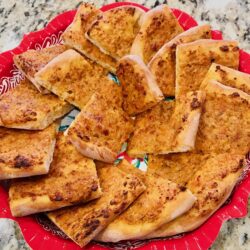 Banerov Hatz
A classic cheese-onion flatbread recipe from Musa Dagh
Ingredients
Dough Ingredients:
1

pkg.

dry, active yeast

1

5-lb. bag

all-purpose flour

(sifted)

½

cup

oil

(olive oil or vegetable oil can be used)

1½

tsp.

salt

water – about 5 cups

(Do not add water all at once!)
Cheese-Onion Topping Ingredients:
2

lbs.

cottage cheese

(small curd)

4-5

lbs.

onions

(finely chopped)

4

oz.

blue cheese

(crumbled)

½

cup

Parmesan cheese

(grated)

½

tsp.

EACH of cumin, allspice, paprika

3

Tbsp.

dried oregano

(crushed)

3

Tbsp.

red pepper paste

(Sold in Middle Eastern stores. 3 Tbsp.Tomato paste mixed with 1/2 tsp. paprika can be substituted)

½

cup

olive oil
Instructions
Directions for Dough Preparation:
Dissolve yeast in ¼ cup lukewarm water.

In large bowl combine sifted flour, oil, salt, dissolved yeast, and enough water to make a smooth dough. (The amount of water you use isn't exact. There may be some trial-and error involved here.)

Knead dough for 5 minutes. Place in a large bowl.

Lightly oil the top of the dough. Cover, and let rise for 30 minutes to one hour.

Punch down dough. Divide dough into 7 balls, keeping them covered until ready to use.
Topping Directions:
Combine cottage cheese and the red pepper paste to achieve a reddish color.

In a separate large bowl add onions, blue cheese, Parmesan cheese, olive oil, and seasonings, mixing well.

Add the cottage cheese mixture and stir well to combine. Set aside until ready to use.
Assembling Directions:
Lightly grease a large baking sheet with one-inch sides. Preheat oven to 375°F.

Working with one ball of dough at a time, roll the dough into a rectangular shape large enough to fit into the baking sheet. Press dough with fingers to fit, if necessary.

Spread some cheese filling on the dough to about 1/4-inch from the dough's edge.

Bake until dough is golden brown on the bottom and around the edges (approx. 20 minutes).

Continue this procedure until all 7 loaves are done.

Cool each loaf completely on wire racks.

To serve: cut into large squares (roughly 3"x3").

To store: completely cool, cut each loaf into squares. Wrap several squares in plastic wrap without stacking them, then place in freezer bags, and freeze. When ready to serve, defrost in the refrigerator, then heat in a 350°F oven until warm.
Notes
Short on time? Buy prepared pizza dough from your local grocery store! You'll need several packages, though.
The cheese filling can be made a day in advance.
(Visited 245 times, 1 visits today)