Margie, a reader from PA., had a special request for me – to help find a recipe her grandmother used to make. The recipe, bishi, is deep-fried dough — lighter than donuts, more like a crueller sprinkled with sugar.
When I consulted Doug, we decided it sounded a lot like the Zing-a-Ling recipe his mother and my grandmother used to make. Great, I thought, but I didn't have the recipe. He suggested asking cousin Alice Bakalian.
Within a few hours of my e-mail, Alice responded in disbelief. She said she was given the Zing-a-Ling recipe in 1987 from her husband's cousin Rosie but never made it until one week before my request, when Rosie
paid her a visit.
She was shocked at the timing of my request. What a coincidence! Alice immediately mailed me a copy of the recipe.
In the meantime, I was curious to see if anyone out in computer-land had a recipe for bishi – or zing-a-ling. The answer……of course! I found a recipe for Bishi, the "Armenian Zeppoli" at http://www.recipezaar.com/ sent in
by a person named Manoushag. It was her grandmother's recipe using yeast, flour, eggs, etc.
Margie with her finished product I sent Margie this website/recipe information. Much to her delight, it was exactly what she was looking for! The recipe from cousin Alice was very similar.
Margie sent me photos of her attempt to make the bishi, which I promised I'd share with all of you. Thanks Margie for your inquiry and gracious participation!
This recipe is a slight variation of the recipe from cousin Alice Bakalian.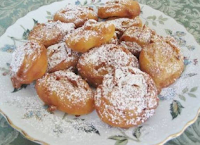 Bishi or Zing-a-Ling
Bishi, is deep-fried dough — lighter than donuts, more like a crueller sprinkled with sugar.
Ingredients
1

package

dry yeast

1

tsp

sugar

¾

cups

water

2

eggs

1½

tsp

baking powder

1

cup

flour

vegetable oil

(for frying)
Instructions
Dissolve yeast and sugar in ¾ cup water.

Mix flour, baking powder, and eggs in a bowl. Stir in yeast mixture until blended.  Let stand 20 minutes to allow mixture to thicken and rise.

Heat vegetable oil, such as Mazola, in a deep fryer to 375°F.

Test with a small amount of dough. Drop dough in hot oil, one tablespoon at a time.

Fry until golden brown all around.

After frying, drain on paper towels, then dust with powdered sugar. Serve immediately.
(Visited 2,290 times, 2 visits today)