Thanksgiving may have a different meaning from family to
family. For ours, it means love, being thankful for all with which
we've been blessed, and sharing our favorite recipes.
When it comes to the 'feast', ours takes a slight detour from
the All-American menu. We sprinkle-in some of our family's Armenian treasured
recipes, passed down from our loved ones.
Midia Dolma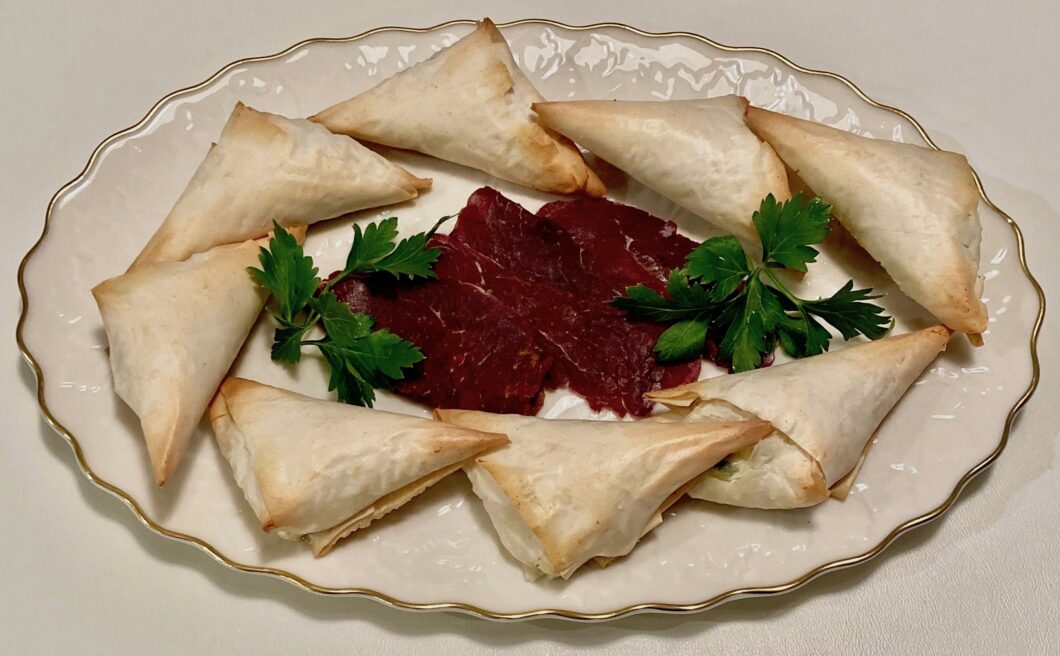 Cheese Boregs served with Basturma
For instance, our appetizers often include Midia Dolma,
cheese boregs, homemade hummus, assorted olives, Armenian string cheese, and lavash or pita bread.
Sometimes a Roasted Leg of Lamb (recipe below) is the star of the show,
but, when we do roast a turkey, it's filled with Armenian Stuffing (recipe
below), rather than the usual bread or cornbread-based varieties.
Dessert is more likely to be Apricot Pie, rather than apple or pumpkin, and for good measure an occasional plate of Boorma (or paklava) would adorn the table.
T
echnically, this is my apple pie, but imagine it with an apricot filling!
Boorma
No matter what you serve, the main thing is to share and give thanks.
Happy
Thanksgiving from our Table to yours!
Roasted Leg of Lamb
Yield: approximately 6 servings
Ingredients:
1 leg of lamb, bone-in, 6 to 7 lbs., untrimmed
2 Tbsp. Coriander seed, freshly ground
½ tsp. ground black pepper
2 medium onions, roughly cut, skin on
4 cloves garlic, whole, skin on
Directions:
1. In a small bowl, combine the ground coriander, salt, and
pepper. Blend well and set aside.
2. Place the oven rack as close to the center as possible,
then preheat to 350° F.
3. Line the bottom of a roasting pan with heavy-duty foil.
4. Spread the cut onions, garlic, and ½ cup of water on top
of the foil. This will impart a lively flavor, and fragrance to the recipe
during roasting.
5. Place a roasting rack over the onion mixture.
6. Place the lamb on the rack, fat-side up. Leaving the fat
on will flavor and moisten the meat.
7. Sprinkle the coriander, salt and pepper on the surface
of the lamb, gently rubbing them in.
8. Roast the lamb for about 2 1/2 to 3 hours, basting
periodically with the juices from the bottom of the pan. (There is no need to
turn the meat during roasting.)
9. Remove the roast to a carving board, allowing the meat
to rest for about 15 minutes before slicing.
10. Serve with pan juices that have been skimmed of fat.
Special Note: 
Do Not discard the juices at the bottom of
the pan! When cooled, strain the juices into a food storage container, discard
the onion & garlic.
Refrigerate overnight. Remove the layer of fat which
hardens on the top. What's left is a flavorful broth to use as a base for soup
or sauces.
Armenian stuffing
Armenian
Stuffing
Yield: Enough to stuff a 10-12 lb. turkey – or serves 6 or so as
a side dish
½ lb. ground lamb (ground beef or ground turkey may be
substituted)
1½ cups long grain, parboiled rice (Uncle Ben's works well
in this)
Salt, pepper, to taste and allspice (about 1 tsp.)
3 cups water or chicken or beef broth
1 Tbsp. Better Than Bouillon paste (optional)
¼ to ½ cup toasted pine nuts (optional)
1. Brown the meat in a large pot with a little salt, pepper
and one tablespoon of water. Drain off any grease. Remove meat from pot and
place in a bowl. Melt 2 Tbsp. butter and sauté onion until soft. Return meat to
pot and stir.
2. Bring the water or broth to a boil. Add the rice and
butter; stir. Reduce heat to low, cook, covered, until liquid is absorbed, and
rice is tender, about 20 minutes. Remove pot from heat and allow to rest for 10
minutes.
3. Using a fork, fluff the rice and add the allspice, and
more salt and pepper, if needed, and toasted pine nuts, if using.
NOTE
: This recipe is used as a
stuffing, but makes a delicious side dish, as well.
(Visited 218 times, 1 visits today)