Sometimes people are lucky enough to be in the right place, at the right time.
Here's our story: A number of years ago former neighbor Marian Amiraian called to say her children weren't able to visit and that she prepared a giant pot of Tahnabour she'd planned to serve them. Since her family couldn't come, Marian wondered if Doug and I would be interested in having some.
Interested? Was she kidding?? Of course, we were! We lived a hop, skip, and a jump away, and were only too happy to help Marian out. After keeping a small portion for herself, we were treated to the rest. It made a perfect lunch – and then some, and boy, was it DELICIOUS! We thanked Marian over-and-over again!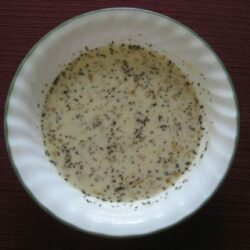 Tahnabour -Armenian Yogurt Soup
Slightly tangy, rich and minty soup that soothes one's soul!
Ingredients
2

cups

chicken broth (lower sodium or unsalted)

1

handful

quick-cooking barley

1

16-oz.

container of plain yogurt (Not Greek-style)

1

egg, beaten

2

Tbsp.

butter, melted

½

medium

onion, finely minced

1

Tbsp.

dried mint, crushed

salt, to taste
Instructions
Place chicken broth in a large saucepan, add a handful of quick-cooking barley, and cook until barley is tender, about 12-15 minutes. Set aside to cool.

In a mixing bowl, add the plain yogurt, and whisk in one beaten egg until well combined. Set aside.

Meantime, in a skillet, melt 2 Tbsp butter, and saute the minced onion, over a low heat until onions begin to caramelize, about 5-7 minutes; stir in 1 Tbsp. dried, crushed mint. As soon as the onion and butter turn a light brown, remove skillet from heat.

Once the chicken broth and barley have cooled, vigorously whisk the yogurt-egg mixture into the saucepan, then stir in the onion-mint mixture. Season with salt according to your taste. Heat ever-so gently, stirring constantly, until a slight simmer has been reached, about 5 minutes.
Notes
NOTES:
When heating leftover Tahnabour, use a low heat, stirring often, to prevent curdling.
To make this a heartier soup, add kufteh meatballs.
(Visited 345 times, 1 visits today)