In my post about Michink – Median Day of Lent, I received the following comment:
'Good Morning – I was hoping you have a recipe for Tahn Hatz to share. The only recipe I have is for massive amounts for Bake Sale purposes. I'm not good at breaking down the amounts to make a dozen or two. Any information would be appreciated. Thanks!'
I took the request to mean 'Tahini" Hatz or Tahini Bread, so here is a recipe that can easily be made for a family.
Note: this recipe is sometimes served as a Lenten pastry, unless you are strictly vegan during that time period, in which case substitutions can be made with the milk, butter and eggs- or you can just wait until after Lent and enjoy the following recipe.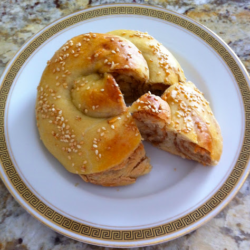 Tahini Hatz
A pastry made of sesame seed paste, cinnamon and sugar.
Ingredients
Dough Ingredients
1

package

dry granular yeast 

1

tsp

sugar

¼

cup

water

(luke-warm 105° -110° F)

1

cup

milk

(luke-warm 105° -110° F)

½

cup

unsalted butter

(melted)

1

tsp

salt

2

eggs

(beaten)

4½

cups

all-purpose flour

(Note: Keep extra flour on hand – just in case!)
Tahini Filling Ingredients
2

cups

tahini

(well-stirred)

1

cup

powdered sugar

(Note: if you'd like a  slightly sweeter pastry, add about 1/4 cup more powdered sugar)

½

tsp

cinnamon

(optional)
Glazing Ingredients
1

egg

(beaten)

1½

tbsp

water
Garnish Ingredients
2

tbsp

sesame seeds

(optional)
Instructions
Dough Instructions
Place the yeast and sugar in a large mixing bowl. Gradually stir in ¼ cup lukewarm water until yeast is dissolved.

To the yeast mixture, add the milk, melted butter, salt, and beaten eggs.

Gradually add 4 cups of the sifted flour, mixing to create a stiff dough. If the dough is too soft, add the rest of the flour. If the dough is too dry, add some water to achieve the correct consistency. Robyn's note: I actually used closer to 5 cups of flour.

Turn dough onto a lightly floured surface; knead until well-blended. Place dough in a lightly oiled bowl, turning the dough so the entire surface is oiled. Cover bowl tightly with plastic wrap, then cover the bowl with a large towel. Allow dough to rise about 2 hours, or until doubled in bulk.) 

Cut dough into 6 equal balls. Lightly oil each ball of dough to prevent drying; place on a lightly floured tray. Cover dough with a clean towel; allow to rest for about 15 minutes. At this time, prepare the tahini filling.
Filling Instructions
Mix together the tahini, powdered sugar, and cinnamon, if using until well-blended and free of lumps. Set aside until ready to use. 

Note: Filling can be made ahead of time. 2. If filling is too thin, it can be thickened by stirring in a few tablespoons of flour.
Rolling & Shaping the Dough Instructions
Using a rolling pin, roll one ball of dough at a time on a lightly floured work surface into a 10-inch circle, about 1/8 inch thick.

Thinly spread one sixth of tahini filling onto the rolled dough almost to the edge. Using your hands, roll the dough away from you, in a jellyroll fashion  until it becomes an elongated rope. Holding each end of the rope, turn in opposite directions, giving it a twist.

Shape the elongated rope into a spiral, tucking the ends underneath so they will not separate during baking. 

Place the spiraled dough onto a lightly greased baking pan.

Continue steps 1-4 with the rest of the dough and filling ingredients.

Note: All six breads should fit onto one baking pan.
Glazing & Baking Instructions
Beat together one egg and 1 to 2 Tbsp. water. Brush the top of each tahini bread with egg wash. Sprinkle with toasted sesame seeds, if desired.

Preheat oven. Place tray on the center rack. Bake for about 20 minutes, or until tops are a lovely golden brown. 

Cool completely on a wire rack. 

Store in a thightly covered container. Breads should last for several days at room temperature. To freeze, wrap each bread in plastic wrap and place in a plastic freezer bag or plastic container.
Notes
Serve with piping hot coffee or freshly brewed tea, and fresh fruit!
(Visited 1,233 times, 1 visits today)