Shepherds of long ago created meals of wild greens and herbs as they sought nourishment while tending their flocks. They would gather and eat whatever they could find growing in the fields. Over time, families adopted this 'recipe' and added other ingredients including tomatoes, peppers, radishes, cucumbers, celery, carrots, lettuce, fresh herbs (parsley, cilantro, dill, mint), and sometimes cheese, olives, in addition to a simple salad dressing.
So, basically , Shepherd's Salad is simply … a salad!
There is no formal recipe for this so ingredient options and amounts used are entirely up to you.
Cousin Ani Ehramjian messaged me the other day asking about a dressing for a Shepherd's Salad she was making using only tomatoes and cucumbers. Ani said other dressings she'd made just never came out right, so after doing some research she found a dressing recipe which included pomegranate molasses. She wanted to know if adding pomegranate molasses to the dressing was correct as she'd never heard of it before.
I responded by saying it's all a matter of personal preference and offered her two dressing options: a traditional one, and one incorporating the pomegranate molasses.
After making the pomegranate molasses dressing and tasting the salad, Ani immediately got back to me exclaiming, "Thanks! It turned out great!"
Pomegranate molasses is now a staple in Ani's pantry.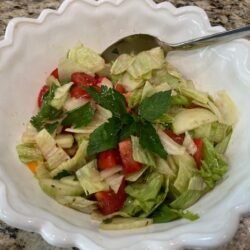 Pomegranate Molasses Salad Dressing
A tart-sweet dressing that will brighten any type of salad!
Ingredients
2

Tbsp.

freshly squeezed lemon juice

(or to taste)

2-3

Tbsp.

extra virgin olive oil

1

tsp.

pomegranate molasses

(Sold in Middle Eastern stores or in some larger grocery chain stores in the International aisle.)

¼

tsp.

Aleppo red pepper

(or to taste)

Salt

(to taste)
Instructions
Gather the dressing ingredients.

Measure the dressing ingredients into a small mixing bowl and mix to combine. If making the dressing in a jar, close lid tightly and shake to combine.

Place selected and cut salad ingredients into a large enough salad bowl. Pour dressing over salad greens and toss gently to combine.

To serve: sprinkle with your preferred crumbled cheese and chopped olives, if desired.
(Visited 469 times, 1 visits today)