I'm always looking for different ways to prepare usual ingredients. When I came across springtime-fresh asparagus at the market, I knew it would be part of our Easter menu – and- I wanted it to be visually appealing. I found a recipe on The Mediterranen Dish that was almost what I was looking for. So, after changing a few ingredients, I came up with my version of Asparagus Salad with Tomatoes, Feta and Basil.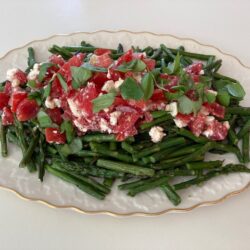 Roasted Asparagus Salad with Tomatoes, Feta and Basil
Asparagus, a vegetable associated with springtime, is paired with fresh, diced tomatoes, crumbled Feta cheese, and bits of fresh basil for a delicious salad.
Ingredients
Ingredients for the Salad:
1½

lbs.

fresh asparagus

(tough ends removed)

Salt

(to taste)

Freshly ground black pepper

(to taste)

2-3

Tbsp.

extra virgin olive oil

¼

cup

good quality Feta cheese

(crumbled)

2-3

cups

tomatoes

(dice – or cut in half – depending on the type and size of tomato selected – such as Campari, grape, or Roma tomatoes)

10-12

large

fresh basil leaves or mint leaves

(torn into pieces, or cut into thin strips (chiffonade)
Ingredients for the Vinaigrette:
¼

cup

white balsamic vinegar

(red or white wine vinegar may be substituted)

¼

cup

extra virgin olive oil

¼

tsp.

garlic powder

(2 small cloves fresh, minced garlic may be substituted)

1

tsp.

ground sumac** (see Notes below)

(1 to 2 tsp. freshly squeezed lemon juice may be substituted)

salt and pepper

(to taste)
Instructions
Once the tough ends are removed, rinse the asparagus, pat dry and cut into 2" pieces.

Preheat the oven to 400° F.

Put the asparagus pieces in a large mixing bowl. Drizzle with olive oil and season lightly with salt and freshly ground black pepper. Toss to coat.

Lightly oil a large baking pan with 1" sides. Arrange the asparagus in a single layer for even roasting. Roast for 15 to 20 minutes, or until tender. Once done, place the pan of roasted asparagus on a wire rack to cool.
To make the vinaigrette:
Place all of the dressing ingredients in a jar with a tight-fitting lid. Shake vigorously until ingredients are blended.

Note: Be sure to shake the vinaigrette before each use, as the oil and vinegar will separate each time the vinaigrette has time to rest.
To Assemble the Salad:
In a mixing bowl, combine the cut tomatoes with the crumbled Feta and gently toss them together with some of the shaken vinaigrette.

Arrange the roasted asparagus on a serving platter. Drizzle with a little more of the vinaigrette.

Arrange the tomato and Feta on top of the asparagus. Finally, add the basil or mint leaves. This salad may be served warm, at room temperature, or chilled.
Notes
Sumac, sold in Middle Eastern stores, provides a lemony-taste to recipes.
(Visited 424 times, 1 visits today)