Easter is the celebration of the Resurrection of Christ. After observing Lent for 40 days and 40 nights, we've earned the right to enjoy some of the pleasures we've resisted for what seems like a very long time. One way to do this is to serve Traditional Paklava at your Easter table.
Some years ago, Susan Ounjian, a lecturer and performer, hosted a cooking video, "The Art of Traditional Armenian Cooking". In it she explained her version of the origin of the word "paklava." She stated that the word came from an old Lenten tradition: "With 'pak,' meaning Lent, and 'halva', meaning sweet, the story says that paklava was made with 40 layers of dough to represent the 40 days of Lent. After Easter services, paklava was served in celebration."
So, with this in mind, here is our recipe for traditional paklava to serve and enjoy with your family and friends this Easter Sunday.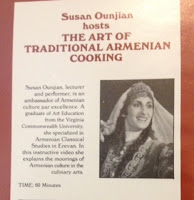 Paklava – Traditional Style
We hope you enjoy this flaky, crispy, nutty traditional paklava recipe.
Ingredients
Filling Ingredients
2

cups

wanuts, pecans, or pistachio nuts

(chopped)

1½

tsp

ground cinnamon
Main Ingredients
1½

cups

clarified, unsalted butter

(melted)

1

lb

phyllo dough

(thawed)
Directions
2

cups

sugar

1½

cup

water

1

strip

lemon peel or a drop of lemon juice
Instructions
In a medium bowl, combine nuts and cinnamon. Set aside.

Lightly brush a 9″ x 13″ baking pan with melted butter.

Place half of the phyllo sheets (20 sheets) on the bottom of the pan, lightly brushing every (or every other) sheet with melted butter.

Layer the rest of the phyllo sheets (20 more sheets) on top, lightly brushing each sheet, including the top layer, with melted butter.

Place tray of unbaked paklava in refrigerator for about 45 minutes to one hour before attempting to cut.

To make diamond-shaped cuts: using a very sharp knife, cut diagonally, then make vertical cuts through phyllo dough.

Bake in preheated 350°F oven for 45 minutes to 1 hour or until golden brown.

As soon as the paklava comes out of the oven, spoon some of the cooled syrup over the top of each piece. Cool completely before serving.
To Clarify Butter
Melt about 1 ½ to 1 ¾ cups butter or butter and margarine over low heat until foam appears. Skim foam and keep on low heat for about 15 minutes or until water has evaporated and salt and solids settle to bottom of pan. Cool about 15 to 20 minutes. Carefully pour clarified butter into container, leaving salt and solids at bottom of the pan. Discard solids.
Simple Syrup
Bring all ingredients to a boil. Simmer for 10 minutes. Strain and cool.
(Visited 2,205 times, 1 visits today)