In late October, my friend Linda gifted me with two small pie pumpkins – not pumpkin pies, but pumpkins from which pies – or other pumpkin goodies – could be made. They are the same type of pumpkins she used to make her pumpkin geregoor.
With my gift, I planned to make pumpkin purée, which immediately I used in my pumpkin bread recipe. I originally posted this recipe in 2015 using canned pumpkin purée. This time around, I used the homemade pumpkin purée and added about ¾ cup chopped pecans to the batter. If I do say so myself, it came out pretty darn good!
Today I am going to share how I made the pumpkin purée and then a delicious and easy pumpkin custard.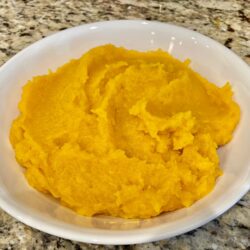 Pumpkin Purée
Pumpkin pureé is a versatile ingredient for endless pumpkin recipes.
Ingredients
2

small

pie pumpkins

(not pumpkin pies, but pumpkins from which pies – or other pumpkin goodies – could be made)
Instructions
Carefully cut through each pumpkin, removing the pumpkin fibers and seeds.

Discard the fibers, but rinse and pat the seeds dry so they can be roasted later!

Working with 2 pumpkin halves at a time, place them, cut-side down on a microwave-safe plate and microwave them for about 6-8 minutes on high power, or until the pumpkin halves are soft. 

Test them by piercing the skin with a paring knife. If it went in easily, they are done.

Let the pumpkin pulp cool a bit, then scoop it out.

Place the pulp in the bowl of the food processor fitted with a metal 'S' blade.

After a few pulses, the pulp should be smooth and ready to use or freeze for later use.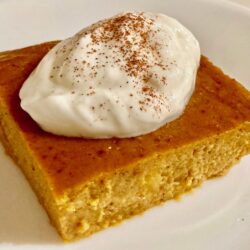 Pumpkin Custard
A crustless version of pumpkin pie that is light, tasty and a great way to use pumpkin purée.
Ingredients
2

cups

pumpkin purée

2

eggs

(beaten)

1½

cups

milk

(OR 1 can evaporated milk)

¾

cup

dark brown sugar

½

tsp

salt

½

tsp

cinnamon

¼

tsp

cloves

¼

tsp

allspice
Instructions
Place pumpkin purée in a large mixing bowl with the rest of the ingredients. Mix well to combine.

Preheat oven to 425 °F. Lightly grease an 8" x 8" casserole dish with vegetable oil. Place pumpkin mixture in the dish and spread evenly. Bake for 10 minutes.

Lower oven temperature to 350°F and continue baking until custard is set, about 30- 35 minutes more. Test the center of the custard by inserting a paring knife in the center. If it comes out clean, the custard is done.

Place casserole dish on a wire rack, allowing the custard to cool for about 30 minutes. Cover the dish with plastic wrap and place it in the refrigerator until ready to serve. 
Notes
To serve: Cut custard into 9 pieces. Place individual pieces on small plates. Top with whipped cream and sprinkle with a little cinnamon. 
(Visited 403 times, 1 visits today)