In June of 2001, my husband and I went to Paris to visit his cousin Arsene Dirkelessian.
Before we arrived, Arsene warned us that he and his wife Odile were vegetarians, and wanted to be sure we'd be OK with that. We thought this would be a good chance to shed a few pounds while visiting a city so rich in pastries.
We assured Arsene this would not be a problem – and it wasn't. Not only did Arsene and Odile go above and beyond their duty as hosts, Odile turned out to be a phenomenal cook!
She prepared one knock-out recipe after another. The one that stands out is mujadarah, a hearty mix of lentils and rice flavored by caramelized onions.
I was floored, not only by the taste but by the discovery. How is it I'd never heard of this fabulous dish before then? Mujadarah isn't Armenian, but all of the ingredients certainly are — and it's popular with Armenians from Syria (like Arsene) and elsewhere in the Middle East.
So, we hereby declare it adopted!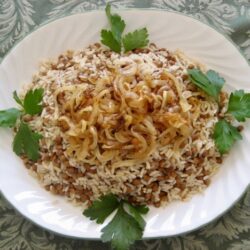 Mujadarah
Lentils, rice, and caramelized onions
Ingredients
1

cup

dried brown lentils

(rinsed, small stones or debris removed)

4

cups

water – divided

(chicken, lamb or beef stock can be substituted for non-vegetarians – divided)

salt

(to taste)

5

Tbsp.

olive oil

(divided)

1

cup

uncooked rice

2

large

onions

( thinly sliced)

¼

cup

flat-leaf parsley

(chopped)
Instructions
Directions for cooking Lentils:
In a saucepan, add the lentils, 2 cups of the water or stock, and a pinch of salt. Bring to a boil; cook about 1 minute.

Reduce heat to low, cover the saucepan, and cook about 25-30 minutes, or until lentils are tender. Add more liquid, if necessary.

Remove from heat, drain excess liquid, if necessary. Set aside.
Rice preparation:
While lentils are cooking, start preparing the rice. In a second saucepan, heat 2 Tbsp. olive oil. Add the rice and saute about 2 minutes.

Add the remaining 2 cups of water or stock, bringing it to a boil.

Reduce the heat, cover the saucepan, and cook about 20 minutes, or until all of the liquid is absorbed and the rice is tender. Set aside.
Onion preparation:
While the rice is cooking, begin preparing the onions. In a large skillet, heat the remaining 3 Tbsp. of olive oil using a medium heat setting.

Saute the onions for about 8-10 minutes, or until they begin to tenderize and caramelize, turning a deep-golden brown.
To Assemble the Mujadareh:
In a mixing bowl, gently combine the lentils and rice. Arrange on a serving platter.

Spread the onions on top, and sprinkle with chopped parsley
Notes
OK, I know some of you are saying – TOO MUCH WORK. Well here's a short-cut version.
Short-cut mujadarah
Serves 4-5
Ingredients:
1-15 oz can lentils, rinsed & drained
2 cups leftover, plain cooked rice – or instant rice
1 to 2 onions ( depends on how much onion you like), sliced and sauteed in olive oil until golden brown.
Salt and pepper, to taste
Parsley, chopped
Directions:
1. Combine the lentils and cooked rice,thoroughly heating them. Place on serving platter.
2. Top with sauteed onions.
3. Sprinkle with parsley.
(Visited 1,444 times, 1 visits today)