My first encounter with aveluk (wild sorrel) was in 2015 when Doug and I were in Yerevan. I'd ordered aveluk soup at a local restaurant and was hooked. The soup was delicious and comforting and I knew I'd want to make it once we returned home. There was one major problem – finding sorrel, fresh or dried, near our home in south Florida was not possible. Friend, and author, Rubina Sevadjian to the rescue! Rubina was kind enough to mail us a packet of sorrel seeds from her home in England. From it grew just enough fresh sorrel to make Sorrel, Spinach and Rice soup.

Since then, we've moved to South Carolina. We still can't find fresh or dried aveluk, but were amazed when we discovered a European Market inside an Exxon gas station store near our home that sells Eastern European, Russian, and Armenian products. We've bought lavash, basturma, string cheese, Armenian wines, preserves, grape leaves, and so much more!
On a recent visit to the store, I spotted jars of preserved sorrel! Naturally, I bought one to try.

Making the Soup: Knowing how sour sorrel can taste, I decided to combine the preserved sorrel with leeks and peas to help tone-down the tartness. Be warned, preserved sorrel has a fairly high salt content, so don't add any salt to the recipe until you've tasted the finished product. Can't find fresh sorrel, don't fret; fresh spinach with a splash of lemon juice saves the day!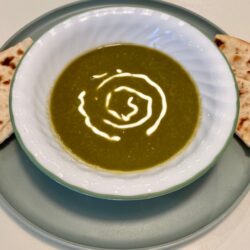 Sorrel Soup with Leeks and Peas
A tangy soup that soothes the soul!
Equipment
Immersion blender, blender or food processor
Ingredients
½

cup

leeks – white part only

(thoroughly rinsed and cut into thin circles)

1

Tbsp.

olive oil

1½

cups

fresh -or- frozen baby peas, thawed

3 to 3½

cups

water, divided

(vegetable broth may be substituted)

1

16.9 oz jar

preserved sorrel, undrained

(3 cups fresh sorrel or fresh spinach washed and trimmed (if available). If using spinach, add lemon juice according to your taste.)

*Salt and Pepper

(to taste – *Note: preserved sorrel can be quite salty. Don't add any salt to the recipe until you've tasted the finished product)
Garnishes (Optional):
parsley, chives, or scallions

(finely chopped)

plain yogurt (not Greek-style), combined with a little olive oil

(for drizzling)
Instructions
Heat a 3-to-4-quart pot on medium heat. Heat the olive oil and then add the leeks. Add 1 cup of the water (or vegetable broth, if using). Cover and simmer for about 10 minutes.

Remove the lid; add the peas, preserved sorrel with its liquid, and 2 to 21/2 cups of water or broth. Bring to a simmer. Cook just until the peas are done, about 3-5 minutes. (If using fresh sorrel, cook until peas are tender, then add fresh sorrel and cook until wilted, about 1 to 2 minutes.)

Using an immersion blender, regular blender or food processor, blend the soup into a smooth puree.

Season with a little bit of pepper and additional salt, if necessary. Reminder: Preserved sorrel tends to be salty so taste soup before adding any additional salt.

Garnish the soup with chopped parsley, chives, or scallions, if desired. Or drizzle with plain yogurt-olive oil mixture.

Serve with pita bread, crackers, or a bread of your choice
Notes
If you find the sorrel soup too tart, blend-in some cream or plain yogurt to help tone it down.
(Visited 352 times, 1 visits today)