After dealing with some heavy-duty dental work this past week, I was only able to eat very soft foods for a few days. This presented me with the perfect opportunity to make Gatnabour. What an excuse, right? Its soft, creamy texture and delicately sweet taste was just what I needed after suffering in the dental chair for so many uncomfortable hours. It's simple to make, but be ready to stand by the stove for about an hour to stir – and – keep a watchful eye on the pot. The end result will be worth every minute of your time!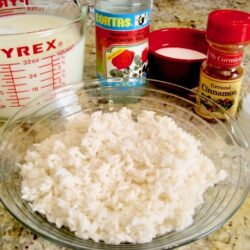 Gatnabour
Sweet and creamy Armenian rice pudding.
Ingredients
1

cup

water

¾

cup

uncooked rice

(short grain is best)

4

cups

warm milk

½

cup

granulated sugar

pinch

salt

1

tbsp

rose water

(optional)

ground cinnamon

(optional)
Instructions
Bring 1 cup water to a boil in a 4-quart pot. Stir in rice; reduce heat to low and cook, covered, until water is absorbed – about 15 minutes. Make sure rice doesn't burn or stick to bottom of pot. Rice will be a bit 'al dente'. Remove rice from pot and set aside. Wash and dry the pot before going on step #2.

Add milk to the same 4-quart pot used in step #1. Heat milk until it is warm, but not boiling. Add the al dente rice to the warm milk and cook on low to medium heat for about 45 minutes, stirring frequently. The mixture should be thickening at this point, as the milk begins to evaporate. Stir in the salt and sugar; cook for 15 minutes more and continue to stir. The mixture should begin to resemble thickened rice pudding. Remove from heat and stir in the rose water, if using.

Pour pudding into individual dessert dishes; allow cool at room temperature. Serve immediately. The pudding can also be served chilled. Sprinkle top with cinnamon just before serving, if desired.
Notes
Robyn's Notes:
I used skim milk and it came out great! The rose water and cinnamon added  very subtle, satisfying flavors to the pudding.
For a more festive touch, sprinkle the top with ground pistachio nuts, or add lemon or orange zest to the mixture as it cooks.
(Visited 2,603 times, 1 visits today)