According to Irina Petrosian, author of "Armenian Food: Fact, Fiction and Folklore" bagharj is defined as an 'unleavened flatbread made without salt'.
As much as this recipe's spelling varies, so do the recipes themselves. Some refer to this as baghaj, others call it pagharch, yet there are those who say it's nazook or even katah (gata). It's enough to make one's head spin!
So far we've posted a recipe for Nazook, Katah (Gata) and another for Pagharch, but here is a recipe for Baghaj from my long-time friend, Barbara Hovsepian.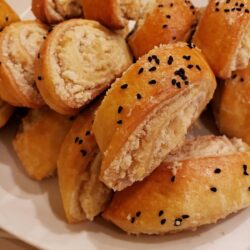 Barbara Hovsepian's Baghaj
A flaky, sweet pastry that pairs well with a cup of Armenian coffee! The nice thing about this recipe is that it can easily be made using a food processor.
Ingredients
Dough Ingredients:
¾

cup

butter

(1 ½ sticks)

¾

cup

milk

¼

tsp. – scant

salt

1

egg

1

pkg.

dry yeast

(Proof in 1/2 cup warm water and 1 teaspoon sugar)

4

cups

flour

(plus extra flour, if needed)

½

cup

sugar
Filling Ingredients:
3

Tbsp.

butter

½

cup

sugar

½

cup

flour

½

cup

walnuts

(chopped)
Topping Ingredients:
1

egg

(beaten for egg wash)

Nigella seeds or sesame seeds

(to use as garnish)
Instructions
To Prepare Dough:
Put 2 cups flour in the food processor fitted with a steel mixing (knife) blade.

Melt butter in a pot. Remove from heat and add milk. Pour into food processor. Add salt and pulse a bit.

Add 1 egg and proofed yeast. Process a for second to mix.

Add remaining 2 cups of flour and process to mix well. If mixture is not balling up and is straining processor, add more flour a heaping tablespoon at a time until it balls up and doesn't stick to sides.

Put dough in large pot.  Cover and let rise until double in bulk at least 2 hours.
To Prepare Filling:
Melt butter in frying pan. Add flour and blend with back of wooden spoon. Remove from heat.

Add sugar and mix well. This should produce a fine crumbly mixture. Add chopped walnuts.
Assembling:
Turn out dough onto a floured work surface and separate into two parts. Roll one part into a large rectangle. Spread filling almost to the edge. Roll from one long side to the other, creating a log-shape, and ending with the edge underneath.  Do the same with the other half of the dough. 

Brush surface with egg wash and sprinkle surface with Nigella seeds or sesame seeds. Let sit and rise for about 30 minutes.

Cut logs into 1-inch to 2-inch diagonal slices to achieve diamond shape portions.
Baking Instructions:
Preheat oven to 350 degrees F.

Line ungreased baking sheets with parchment paper. Place individual baghaj slices about half an inch apart and bake until golden brown, about 30- 40 minutes. (See in 'Barbara's Notes' below information for baking time.) Rotating trays from one rack to another about half-way through baking helps to prevent bottoms from burning and allows tops to brown evenly.
Notes
Barbara's Notes:
If you prefer a more abundant filling, the amounts can be doubled.
Baking time depends on size of the pieces.  It takes about half an
hour in the convection oven to make the small ones,
longer for the bigger ones.  It takes longer to bake in a conventional oven.  I
give an estimate of time and tell people when it smells great and looks golden, it's done.  Some people prefer it well done and almost brown while others like it pale.
 
My sister puts cinnamon in the filling. My mother didn't use it but an aunt sometimes did. So cinnamon is an option. Also, my Baghaj comes out firm while my sister's recipe comes out soft as she uses butter and Crisco in the dough.
(Visited 576 times, 1 visits today)