As I was organizing my recipe folder, a small piece of old newspaper flew off the shelf. I was about to throw it away when I realized it was a recipe for Armenian Meatloaf that I found in a newspaper years ago. I had tucked it in my recipe folder then promptly forgot about it. Its reappearance came at a perfect time.
We're always looking for ways to stretch our food budget, yet maintain a healthy balance of nutrients. One way we do this is to incorporate bulgur in as many recipes as possible. We stock up on bulgur whenever we go to the Middle Eastern store because they generally sell all sizes of bulgur in bulk. What we don't use right away is stored in the freezer.
After modifying the recipe to suit our taste, Armenian meatloaf became our dinner that very night. Served with rice pilaf, cooked carrots and green beans (fassoulia), it was a very satisfying meal.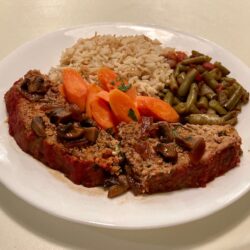 Armenian Meatloaf
A flavorful, comforting meatloaf that's perfect for any day of the week!
Ingredients
⅓

cup

fine (#1) bulgur

(uncooked)

warm tap water

(enough to cover bulgur)

2

lbs.

lean ground lamb or ground beef

(or a combination of the 2)

1

small

zucchini

(shredded)

1

cup

onion

(finely chopped)

1

cup

flat-leaf Italian parsley

(finely chopped)

1

clove

garlic

(minced)

1

egg

(beaten)

1

tsp.

freshly ground coriander

½

tsp.

allspice

(or to taste)

1

tsp.

salt

(or to taste)

ground black pepper

(to taste)

ground Aleppo pepper

(to taste, optional)
Sweet Glaze for Top – optional
3

Tbsp.

pomegranate jelly or apricot preserves

(melted)
Savory Glaze for Top – optional
2-3

Tbsp.

tomato paste

(diluted with a little water to make it spreadable)
Instructions
Place the bulgur in a medium-sized bowl. Pour enough warm water to cover the bulgur. Cover with bowl with plastic wrap and let rest until water is absorbed. Once bulgur is soften, strain excess water, if any.

Combine ground meat, shredded zucchini, softened bulgur, onions, parsley, garlic, egg and seasonings. Mix well.

Preheat oven to 350°F- 375°F (oven temperatures vary). Using a large-enough baking pan with sides, pat mixture into a loaf shape. Bake for 50 minutes. Drain off any accumulated fat.

Brush top of meat loaf with either the jelly/preserves, or tomato paste mixture. Return to oven and bake another 5-10 minutes. Remove pan from oven; allow meatloaf to rest 10 minutes before slicing.

Serve with your favorite side dishes.
(Visited 933 times, 1 visits today)