In February, just before Doug and I moved to the Carolinas, I received an email from Lianne Won, whose family owns Marshallberg Farm, in N.C. They have two facilities – one in Lenoir, NC (near Boone) and another in Smyrna, NC (near Beaufort). They raise Russian sturgeon for its meat and caviar. Their website states (in Russian) that they are 'The largest producer of Russian Sturgeon in the USA'.
Lianne mentioned that they receive a lot of calls from Armenians in NC (particularly in Charlotte), who are excited to order some fresh sturgeon meat. She asked if I could somehow let the Armenian-Russian community know about their products.
Since Lianne's first email, I learned that her company's sturgeon is now available at Super G Mart, a gigantic international market, on the east side of Charlotte, as well as online.
I'd never eaten sturgeon before, but noticed that it's on the menu at the Ararat 17 restaurant. As it turns out, Marshallberg Farm provides the sturgeon served at this restaurant.
I made a point of ordering the sturgeon kebab on our last visit.
Our server warned me that the taste might be strong. Despite this warning, I ordered it anyway. I can happily report that the flavor was rather mild. Some might object to the texture, however, as it is firm – not flaky – and a bit chewy, but that might have been the result of its preparation.
To be fair, I contacted Lianne to ask about the texture of cooked sturgeon.
Lianne noted that the sturgeon's texture is indeed dictated by it's preparation. When she prepares sturgeon, Lianne bakes the fish slowly at 350 degrees F in a covered pan for about 20 minutes. Then she grills it quickly to get the grill marks and a charcoal taste. Lianne states that sturgeon meat comes out better when it is not cooked over direct heat.
My sturgeon kebab was attractively presented with the two side dishes I selected (fluffy rice and a very tasty hummus).
A small cup of pomegranate molasses accompanied the dish. The owner, Vardan, happened to stop by our table, so I asked why the pomegranate molasses was on the plate. He said they serve the sturgeon that way because many of their Armenian customers from Baku prefer it.
I'm not one to argue, so I dipped a piece of the kebab into the sweet, tangy, pomegranate molasses, and decided I liked it better plain.
I didn't ask Vardan for their sturgeon kebab recipe, but Lianne's site offers some impressive ways to prepare sturgeon, including one for kebab.
With Lianne's permission, here is the Sturgeon Kebab recipe from Marshallberg Farm.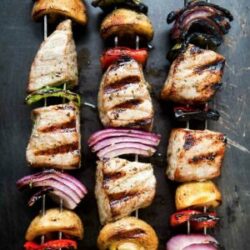 Sturgeon Kebab
An easy and quick way to prepare sturgeon on the grill.
Ingredients
Kebab Ingredients
1½

lb

sturgeon fillet

1

red bell pepper

1

green bell pepper

1

onion

(small, sweet if available)

10

button mushrooms 

(large)
Marinade Ingredients
2

tbsp

onion

(chopped)

1

tbsp

fresh rosemary

(chopped)

1

tsp

salt

½

tsp

black pepper

2

garlic cloves

½

cup

olive oil
For Serving
2

lemons

(cut into wedges)
Instructions
Cut all the fish and veggies into similar-sized pieces; this helps everything lay flat when it is on the grill.

Marinate the fish and vegetables: To make the marinade, purée the chopped onion, rosemary, garlic, salt and pepper in a food processor. Drizzle in the olive oil while puréeing, continue to purée until smooth, about 1-2 minutes. Coat the fish and veggies in the marinade. Set in the fridge for at least an hour and up to overnight.

Thread onto skewers: When skewering the fish and vegetables, pierce the fish against the grain, and select pieces of veggies that are close to the same size as your fish. This is important, because if the pieces are different widths, some things will be charred and others undercooked.

Grill on high, direct heat: Prepare the grill for high, direct heat. Clean the grates and wipe them down with a paper towel that has been dipped in vegetable oil. Lay the skewers on the grill.

Don't move them until the fish pieces are well browned on one side, about 3-6 minutes.

Then using tongs, carefully turn the skewers over and cook them until they are seared on the other side.

Serve hot or at room temperature.

Drizzle with lemon juice or serve with lemon wedges.
(Visited 586 times, 1 visits today)