One of our go-to recipes is good-old losh kebab – an Armenian 'hamburger' which is much like lule kebab.
'Lule' means 'rolled' and clearly refers to its sausage shape. Losh kebab generally uses the same meat mixture recipe as lule kebabs; the only difference is that Losh kebabs are shaped like traditional hamburgers.
Losh kebab is particularly popular with Armenians in New England, however, as New Englanders settled in other areas, their losh kebab recipe and popularity traveled with them.
In 2012, Tom Vartabedian, a dear departed friend from New England, wrote this article for The Armenian Weekly singing the praises of losh kebab.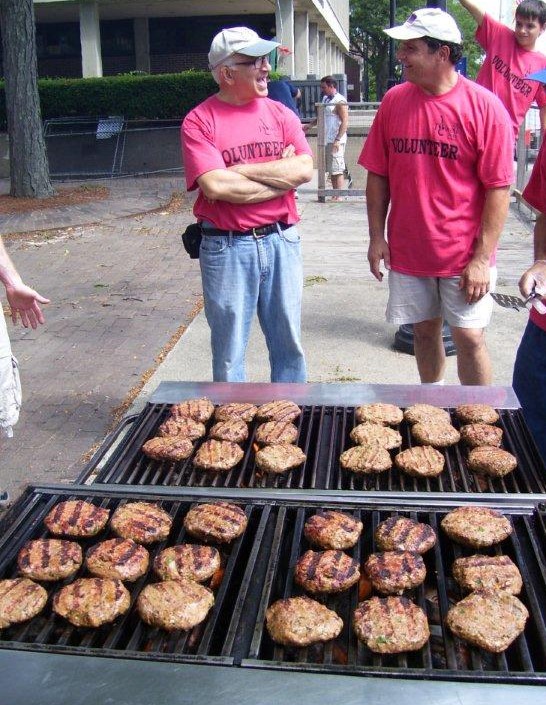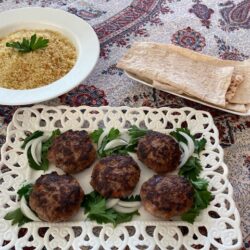 Losh Kebab
It's shaped like a hamburger, but tastes like Armenian lule kebab due to its special ingredients.
Ingredients
1¼

lbs.

ground lamb

(Ground beef may be substituted or combined with the lamb.)

¼

cup

onion

(finely chopped)

¼

cup

fresh parsley

(finely chopped)

¼

cup

plain dry bread crumbs

1

egg

(beaten)

1

Tbsp.

red pepper paste

(1 Tbsp. tomato paste plus 1/8 tsp. cayenne pepper may be substituted.)

1

tsp.

ground coriander

(or to taste)

½

tsp.

ground allspice

1

tsp.

salt

½

tsp.

ground black pepper

¼

tsp.

Aleppo red pepper

(optional)
Instructions
In a small mixing bowl, combine the beaten egg, red pepper (or tomato) paste, and seasonings. Blend well. Set aside.

Place meat, onions, parsley, and bread crumbs in a large mixing bowl. Using your hands, mix well. Add the egg mixture to the meat, mixing well until all ingredients are well-blended. (NOTE: If you're squeamish about handling raw meat and egg, you may want to wear non-powdered, sterile, disposable food preparation gloves for this step.)

Shape mixture into 4 or 5 good-sized patties.

These can be grilled, broiled, or pan-grilled to your preferred degree of doneness.

Serve with your choice of bread and your favorite side dishes.

 Optional toppings: sliced tomato, onion, lettuce, * yogurt-garlic sauce - see recipe below in Notes.
Notes
*Yogurt-Garlic Sauce
Ingredients:
16 oz. plain yogurt
2 garlic cloves, minced
2 tablespoons lemon juice
salt to taste
Directions:
1. In a small mixing bowl, combine yogurt, lemon juice, garlic, and salt. Mix well.
2. Chill until ready to serve, allowing flavors to blend. Can be refrigerated for up to 5 days.
NOTE: If you want a thicker sauce, use Greek yogurt or labne  which is made fromGreek yogurt by lining a strainer with cheesecloth. Place the strainer over a bowl. Pour the yogurt into the lined strainer. Cover with additional cheesecloth and weight it down. Place all in the refrigerator for several hours or overnight. Discard the excess liquid that collected in the bowl, and place the thickened yogurt (labne) in a separate storage container. Keep refrigerated until ready to use.
(Visited 1,788 times, 1 visits today)