We grew up eating lamb – and loving it.
My American friends who had eaten lamb, said they couldn't stand it. How could anyone not love lamb?
Hadn't they ever tasted lamb roast, shish kebab, tass kebab, or luleh kebab? Even among some of my Armenian friends, there were those who didn't like lamb. That really puzzled me! How could an Armenian not like lamb?
Then it hit me – they didn't know about the secret Dikranagertsi ingredient – coriander (kinz).
Armenians whose families come from Dikranagerd take their kinz seriously. Some have been known to take their own freshly ground coriander to church picnics and restaurants to season the lamb dishes- just in case it wasn't used in the recipe.
But, be warned, the taste is definitely better when the coriander is part of the original preparation.
Give coriander a try and maybe you'll decide lamb isn't so bad, after all!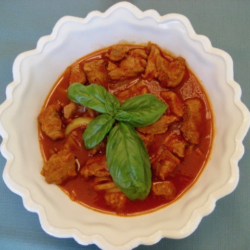 Tass Kebab
The Armenian version of a meat stew – only better! In this case, Lamb cubes cooked in a pot.
Ingredients
3

lbs.

stewing lamb**

(trimmed and cut into one-inch cubes. Note: If stewing lamb is not available, stewing beef or veal can be substituted.)

2

tsp.

freshly ground coriander seed

Salt, pepper, and paprika

(to taste)

2

medium

onions

(sliced)

1

6-oz. can

tomato paste

1

cube

beef bouillon

1

dash

sugar

1-2

Tbsp.

butter

water

(see recipe for amount to use)
Instructions
Place trimmed lamb cubes in a large bowl. Season meat with ground coriander, salt pepper, and paprika. Toss to coat.

In a large, non-stick skillet, sear the lamb cubes, in small batches. Place seared meat in a bowl and set aside. Leave any drippings in the skillet.

Add the onions to the skillet and cook in the drippings until they are soft and slightly caramelized.

Place seared meat and onions in a large pot.

Dilute the tomato paste in 2 cups of water and pour over the meat. If the sauce looks too thick, stir in more water, a little at a time. Continue to add more water, as needed, during cooking.

Stir in the bouillon cube and sugar.

Bring to a boil, then reduce heat to low. Cook, with the pot lid slightly tilted, for 1 ½ to 2 hours, or until the meat is fork-tender. Stir occasionally, and continue to check the level of liquid, adding more as needed.

Just before serving, adjust seasings, if necessary and stir in the butter to mellow the acidity of the tomato sauce.

Serve with rice pilaf, bulgur pilaf, or noodles.
(Visited 643 times, 1 visits today)