Do you remember the post where Doug and I met Chef Michael Psilakis? We were thrilled to have met him in person and receive an autographed copy of his cookbook, "How to Roast a Lamb".
Chef Michael is passionate about his family and career, and is extremely down-to-earth. If we lived near any of his New York restaurants, we'd certainly be regular diners. Instead, we are content to watch him on TV – and I follow him on Facebook.
In one of his recent Facebook posts, Chef Michael shared a recipe for grilled watermelon with yogurt. Since it's summer and the temperature is soaring, I felt this would be a refreshing recipe to pass along.
In Chef Michael's version, he prepares this on an outdoor grill. I've not only adjusted this recipe to suit our taste, I also use my indoor, counter top George Foreman grill for this recipe – no fuss, no muss, and no excessive heat! Naturally, use whichever type of grill you like.
Don't want to heat up a grill? No problem! Skip grilling the watermelon altogether, and call this 'Chilled Watermelon with Yogurt Topping'. If you prefer the non-grilled method, you can omit step 3 which calls for drizzling oil on the melon slices, and sprinkling with salt and pepper.
Here's my version of Chef Michael Psilakis' Grilled Watermelon with Yogurt.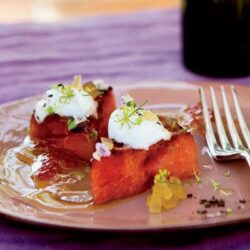 Michael Psilakis' Grilled Watermelon with Yogurt
Chef Michael's refreshing recipe for grilled watermelon with yogurt. Perfect when the summer temperature soars.
Ingredients
1

cup

plain low-fat yogurt

(Greek-style, or plain yogurt which has been strained. Chef Michael uses whole-milk plain Greek yogurt)

1

tbsp

lemon juice

(freshly squeezed)

1

tsp

lemon zest

1

tbsp

extra virgin olive oil

(plus more for drizzling)

salt

(to taste)

black pepper

(freshly ground, to taste)

¼

cup

mint leaves

(fresh, chopped, divided)

10

watermelon slices

(1-inch, triangular )
Instructions
In a bowl, combine the yogurt with the lemon juice, zest, 2 Tbsp. of the chopped mint, and 1 tablespoon of olive oil. Mix in salt and pepper to taste.(Chef Michael suggests making the yogurt topping one day in advance, refrigerating it overnight and bringing it to room temperature before serving.)

Heat the George Foreman grill on high with the lid closed. (Mine doesn't have any heat settings, so it's always on high heat.)

Drizzle the watermelon triangles with olive oil and season with salt and pepper. Place 2 melon slices on the GF grill at a time, close the lid, and grill until nicely charred, about 1 minute. Continue grilling until all melon slices are done.

Transfer melon to serving plates. Top each slice with a dollop of yogurt sauce. Drizzle with olive oil; garnish with the remaining mint and serve.
(Visited 319 times, 1 visits today)